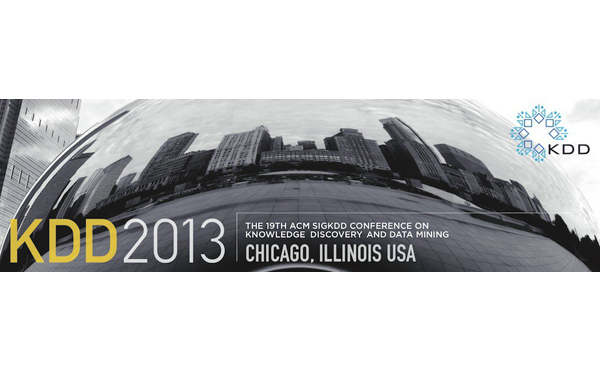 Dr. Usama Fayyad is going to be part of KDD 2013 Panel: "A Data Scientist's Guide to Making Money from Start-ups"
KDD provides the premier forum for advancement and adoption of the "science" of knowledge discovery and data mining. KDD encourages:
Research in KDD (through annual research conferences, newsletter and other related activities).
Adoption of "standards" in the market in terms of terminology, evaluation, methodology.
Interdisciplinary education among KDD researchers, practitioners, and users.
KDD activities include the annual Conference on Knowledge Discovery and Data Mining and the SIGKDD Explorations Newsletter.
Panelists: Oren Etzioni, U. Washington, Usama Fayyad, Oasis 500; ChoozOn, Claudia Perlich, M6D.
Moderators: Geoff Webb and Foster Provost.
Oren Etzioni is an American entrepreneur and professor of Computer Science. He joined the University of Washington faculty in 1991, where he is the Washington Research Foundation Entrepreneurship Professor in the Department of Computer Science and Engineering. In May 2005, he founded the University's Turing Center, of which he is the director. The Center investigates problems in data mining, natural language processing, the Semantic Web and other web search topics.
Usama Fayyad is Chairman of Oasis 500, a leading early stage and seed investment company. He is also Chairman & CTO of ChoozOn Corp/Blue Kangaroo — a personalized mobile search engine for offers based in Burlingame, CA, USA. Up until September 2008, he was Yahoo!'s chief data officer & Executive VP where he applied Big Data techniques to content and advertising targeting and built the world's largest group of data scientist.
Claudia Perlich currently serves as Chief Scientist at m6d and in this role designs, develops, analyzes and optimizes the machine learning that drives digital advertising to prospective customers of brands. She is an active industry speaker and frequent contributor to industry publications, she enjoys serving as a guide in world of data and was recently named winner of the Advertising Research Foundation's (ARF) Grand Innovation Award and was selected as member of the Crain's NY annual 40 Under 40 list.
Geoff Webb has published more than 150 scientific papers and is the author of the commercial data mining software package Magnum Opus, a system that embodies many of his research contributions in the area of data mining.
Foster Provost is Professor of information systems and NEC Faculty Fellow at New York University's Stern School of Business. Professor Provost has a Bachelor of Science from Duquesne University in physics and mathematics and an Master of Arts and Ph.D. in computer science from the University of Pittsburgh.
Follow Usama Fayyad on twitter @usamaf