Published by The Institute for Experiental AI
Usama Fayyad, Ricardo Baeza-Yates, Auroop Ganguly, David Messinger and Kevin Sanborn
Join us virtually on Wednesday, June 14, 2023 at 3:00 p.m. for a conversation about AI for insurance leaders.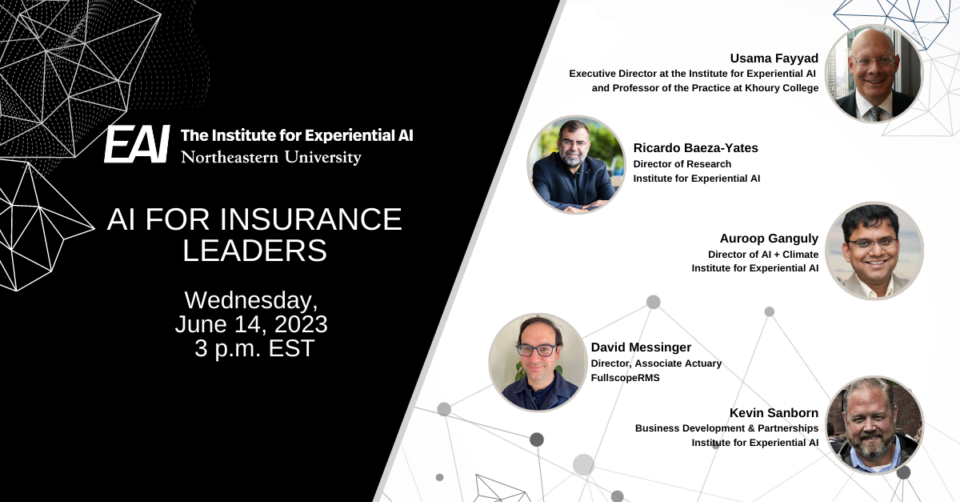 With climate change, the insurance industry is facing a rapidly growing dilemma. Stronger, more frequent, and more unpredictable natural disasters are driving insurers out of high-risk markets, expanding the geographies at risk, and leaving many overexposed. In such an environment, the ability to anticipate the effects of climate change will be a crucial driver of success. That's why savvy insurance leaders are turning to data science and artificial intelligence, which, thanks to both the abundance of climate and actuarial data available and the models' sophistication, are starting to enable companies to model new environmental risks with unprecedented fidelity.
AI also promises a huge opportunity to improve insurers' underwriting and pricing capabilities more broadly across many risks. However, these models and algorithms are often unexplainable "black boxes," which can make it difficult for companies to fully trust their outputs and for regulators to prove they are not inappropriately biased.
This webinar will give insurance leaders an overview of how AI is changing the insurance industry with a drill down on two topics:
1. The use of AI in climate modeling
2. New approaches for enhancing transparency, explainability, and fairness in AI-driven underwriting and pricing models, including a framework for responsible AI perfected by experts at the Institute for Experiential AI (EAI) at Northeastern University.
In an increasingly volatile and uncertain insurance market, the combination of industry and academic expertise offered by EAI is the key to unlocking artificial intelligence that is both effective and responsible.
Presenters:
Usama Fayyad, executive director at the Institute for Experiential AI (EAI)
Ricardo Baeza-Yates, director of research at EAI
Auroop Ganguly, director of AI + climate at EAI
David Messinger, director and associate actuary at FullscopeRMS
Kevin Sanborn, business development & partnerships at EAI
Biography
Usama Fayyad is the executive director of the Institute for Experiential AI. Usama joined Northeastern University Khoury College of Computer Science as professor of the practice and the Office of the Provost as the Inaugural Executive Director of the Institute for Experiential AI. He continues as Chairman of Open Insights, a company he founded as a technology and consulting firm in 2008 after leaving Yahoo to enable enterprises to get value out of their data assets and optimize or create new business models based on the evolving economy of interactions. Leveraging open-source and Big Data technology with strategic consulting, Open Insights deploys data-driven solutions to grow revenue from data assets through Big Data strategy, new business models, data science, and AI/ML solutions…read more
Ricardo Baeza-Yates is the director of research at the Institute for Experiential AI. Ricardo joined the Institute for Experiential AI after his role as Chief Technology Officer for NTENT, a semantic search company based in California. He is also a part-time professor at the Department of Information and Communication Technologies of the Universitat Pompeu Fabra in Barcelona, Spain, and the Department of Computing Science of Universidad de Chile in Santiago… read more
Auroop Ganguly is the director of research at the Institute for Experiential AI and a professor of Civil and Environmental Engineering at Northeastern University. He has affiliate appointments with the Khoury College of Computer Science and the School of Public Policy and Urban Affairs… read more
David Messinger is a director and actuary at FullscopeRMS, a division of Sun Life Financial, where he has provided reinsurance expertise to some of the largest insurers in the U.S. for more than ten years. His early career was in mathematics education, followed by work in database management using analytics to predict and prevent database failures. In addition to more traditional actuarial science, today much of his time is dedicated to finding new opportunities to leverage the data rich environment of insurance for improved customer service and financial results. He is a Fellow of the Society of Actuaries and Member of the American Academy of Actuaries with a Bachelor's Degree from Carnegie Mellon University. Outside of his professional life, he is an amateur botanist, and volunteers on the board of Wild Seed Project working to restore native species to the environment.
Kevin Sanborn leads business development and partnership efforts across the insurance and financial services sectors at the Institute for Experiential AI. He brings significant insurance expertise to EAI, including senior leadership roles at The Hartford, Homesite Insurance and Attune Insurance… read more
View online