Corporate Communicators
TRAVELERS JUGGLING PHONES, PDAS, AND PAGERS: PUT YOUR HANDS TOGETHER FOR A NEW BREED OF ALL-IN-ONE DEVICE.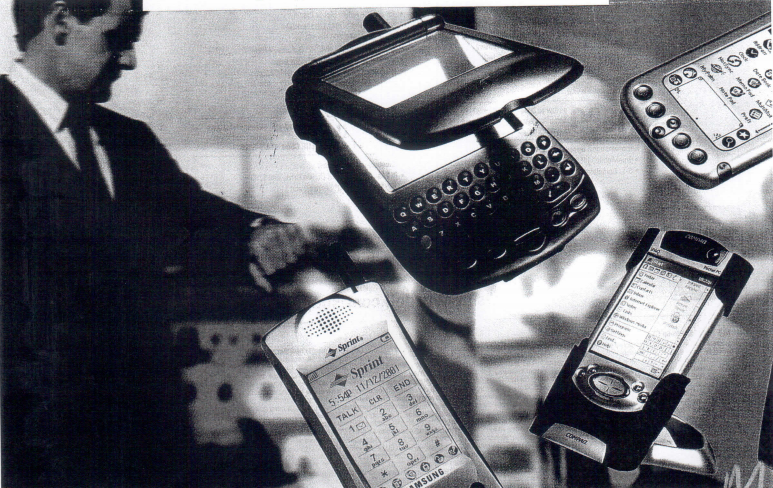 Employee of DigiMine don't see much of president and chief exec Usama Fayyad. That's because he spends most of his working hours traveling.
Like DigiMine's other well-traveled executive and managers, Fayyad relies on his RIM BlackBerry 957 Wireless Handheld to stay in touch via e-mail.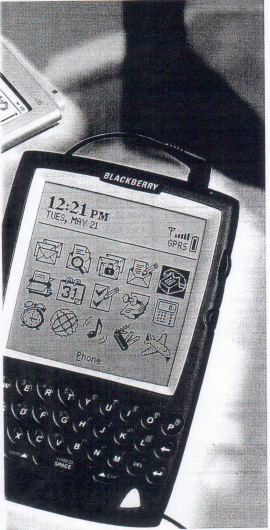 "Real-time communications with our customers, partners, and employees is essential." He says. "BlackBerry allows us to conveniently stay connected anywhere, anytime. I especially value the way my BlackBerry enables me to optimize downtime in airports, taxis, even in lobbies while waiting for a meeting."
Fayyad must also carry a cell phone to maintain voice contact, which is why he's looking forward to trying the new BlackBerry 5810 cell phone pager combo. This device, along with products such as the Handspring Treo 180 and the Samsung SPH-1300. represents a new breed of business-minded handheld that combines PDA, phone, and always-on e-mail. Others vying for executive fist space include the Compaq iPaq H3870, which supports Bluetooth, and the Palm i703, with its always-on access to corporate e-mail.
If you like the idea of carrying around one less device, the new hybrids just might appeal to you. Some are better suited to those who primarily need a phone, with a little data on the side; others are more e-mail deice than phone. These reviews of some of the newest models on the PDA/phone-fusion front should help you pick your own personal corporate communicator.
COMPAQ iPAQ H3870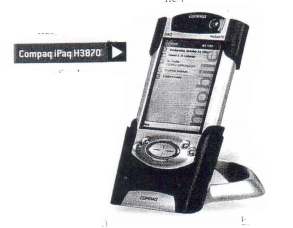 Although Compaq's S649 iPaq H3870 doesn't have always-on corporate e-mail access or built-in phone capabilities, it has other redeeming business qualifications, notably integrated Bluetooth connectivity. But the jury's still out on whether this technology, which lets devices communicate wirelessly over short distances, will catch on.
The Bluetooth radio is hidden in a black plastic protrusion above the LCD, where you'll also find the infrared port. Secure Digital (SD) card slot, and built-in speaker. Bluetooth is designed to let gadgets such as PDAs, cell phones, and printers exchange data wirelessly within a 30-foot range. The shortlist of other Bluetooth-enabled devices includes Sony Ericsson's T68 cell phone and Hewlett-Packard's DeskJet 955c printer.
To make the H3870 a total communication device, you can slide it into the iPaq Pocket PC Wireless Pack for GSM/GPRS Networks sleeve. (For an explanation of wireless communication technologies see "The Next Wave of Wireless" in our Features section.) Prices at $399 (plus service), the add-on which should be available by the time you read this, will extend Internet-data and voice-calling capabilities to the PDA.
Beyond Bluetooth, the iPaq H3870 wraps a stack of attractive features in an aluminum case: a 206MHz Intel StrongARM processor, a generous 64MB of RAM, 32MB of ROM, a 65,000-color reflective screen, and the Microsoft Pocket PC 2002 OS. You also get a bundle of third-party apps, including Insignia Java virtual-machine and data-encryption software. The File Storage application holds a 6MB of your most critical documents in ROM- if you ever drain the iPaq's batteries or hard-reset your handheld you won't lose this data.
The company claims you can get 10 hours of battery life, but that's without the blacklight. We got around 5 hours with the device set on medium brightness and the Bluetooth radio deactivated, and 4 hours with Bluetooth active.
HANDSPRING TREO 180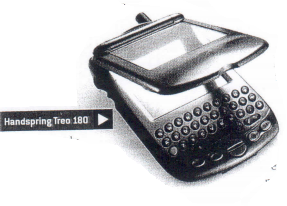 Until recently, the biggest knock against smart phones and communicators was their bulk. Handspring lightens the load with its 5.2 ounce Treo, which measures 4.3×2.7×0.7 inches. A flip lid with a see-through window protects the $399 device's monochrome screen, which is slightly smaller than that of a Handspring Visor (A color version is in the works.) the convenient scroll wheel lets you navigate menus and lists one-handed.
Flip open the cover, and the display defaults to a speed-dial menu that stores 50 names. The Treo 180's phone book puts a space between entries, a look that's not as clean as the standard phone book's. It's still easy to locate a desired contact: Simply tap a contact's number to dial or type the first letter of a first or last name to display a brief list of entries. You can also dial numbers manually by pecking them out off a virtual keypad.
The Treo 180's keyboard is a bit smaller and less tactile that the BlackBerry's, but it's the only input choice. If you love Graffiti, opt for the keyboard-free 180g.
PDA features and specs are those of a standard Visor: a 33MHz Motorola DragonBall processor, 16MB of RAM, and Palm OS 3.5.2 (not upgradable). You'll find no space for adding more RAM, but 16MB of built-in memory should be sufficient for most users.
Wireless data features could be more user-friendly. Handspring includes its Blazer browser, but this device operates over GSM networks, and because GSM carriers aren't ISPs, you'll need your own ISP to access the Internet. What's more, data chugs along at a painfully slow 9.6 Kbps t 14.4Kbps over GSM networks. Handspring plans to post a free software patch service providers can download to make the phone compatible with GPRS networks, which ups the speed to 28Kbps and provides always-on connectivity, but the company hasn't yet announced which service providers will support the Treo 180.
Always on e-mail is the works, according to Handspring, and should be available later this year. Until then, you'll have to make do with POP3 e-mail applications, such as the included JP Mobile One-Touch Mail, which lets you forward e-mail to the device from existing our AOL mail after we installed AOL Mail for Palm OS, and were able to send Short Message Service (SMS) messages to e-mail addresses and other GSM-enabled cell phones in the United States and abroad. Handspring says you can use the Treo in Europe and Asia once you activate international roaming with your carrier.
As a phone, the Treo performs well and is surprisingly comfortable to talk on; it's like using a standard flip model. We also appreciated the quality of the built-in speakerphone, which you can turn on and off by tapping an icon on the screen, and the earbud-style headset for hands free conversations. Our only gripe was the volume could be louder and battery life could be longer. In our tests using VoiceStream's network in New York, we managed to reach Handspring's rated talk time of 2.5 hours and standby time of 60 hours, but those are mediocre figures.
PALM i705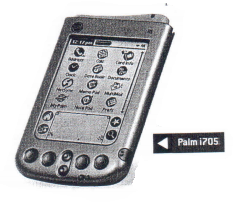 The $449 Palm i705 won't let you jettison your cell phone, but you can gain always-on access to corporate e-mail when you sign up for Palm.Net service. Even when the PSA is off, it blinks, beeps, or vibrates when new e-mail arrives.
The i705 has some shortcomings. Its 160×160-resolution monochrome screen looks low-rent compared with those of the latest color Pals, and it has a meager 8MB of RAM. You can add memory via the SD / MultiMediaCard slot, but you can't store e-mail on a memory card. The unit's built-in wireless modem works with Cingular's Mobitex GSM network. Unlimited use will run you $39.99 per month. $34.99 if you sign up for a year's contract. A $19.99-a-month plan is available, but the maximum data transfer rate is a scant 100K per month – hardly enough for even moderate e-mail use. What's more, data travelers over GSM, and this model can't be upgraded to GPRS. Palm claims the i705's rechargeable lithium-polymer battery lasts a week between charges with the modem on. But if you receive hundreds of e-mails a day, this rating may be optimistic.
Signing up for Palm.Net service gives you an e-mail address (in the format username@palm.com) and the ability to check six POP3 or IMAP4 accounts. On the Palm.Net site, you can configure the service to forward messages regularly from your POP3 accounts, a nifty feature that the BlackBerry and Treo can't handle.
To check corporate accounts, you must down-load Palm's MultiMail Deluxe Desktop Link software to your PC. This software receives mail and forwards it to your i705 and routes mail you send via Outlook, (You'll need to keep your PC running constantly to receive e-mail.)
At press time, Palm was testing software that would let corporations' e-mail servers perform this task.
MultiMail Deluxe will disappoint heavy e-mail users. First, you have to wait while a new message downloads. It supports attachments, but only from your Palm e-mail account. In Outlook, the i705 syncs only with the inbox. URLs in e-mail aren't clickable, and you can't automatically add requests for meetings in Outlook to your calendar.
The i705's wireless Web experience is also less than rewarding. You can access all of Palm's Web-clipping applications, but the HTML browser doesn't work with all Web pages. And because the Palm OS doesn't support multithreading, you can't do anything while pages load.
On the plus side, this model, which runs OS 4.1, uses Palm's Universal Connector, so it work with compatible cradle, keyboards, and other accessories. And a $59.95 thumb keyboard is available for those with dexterous fight digits.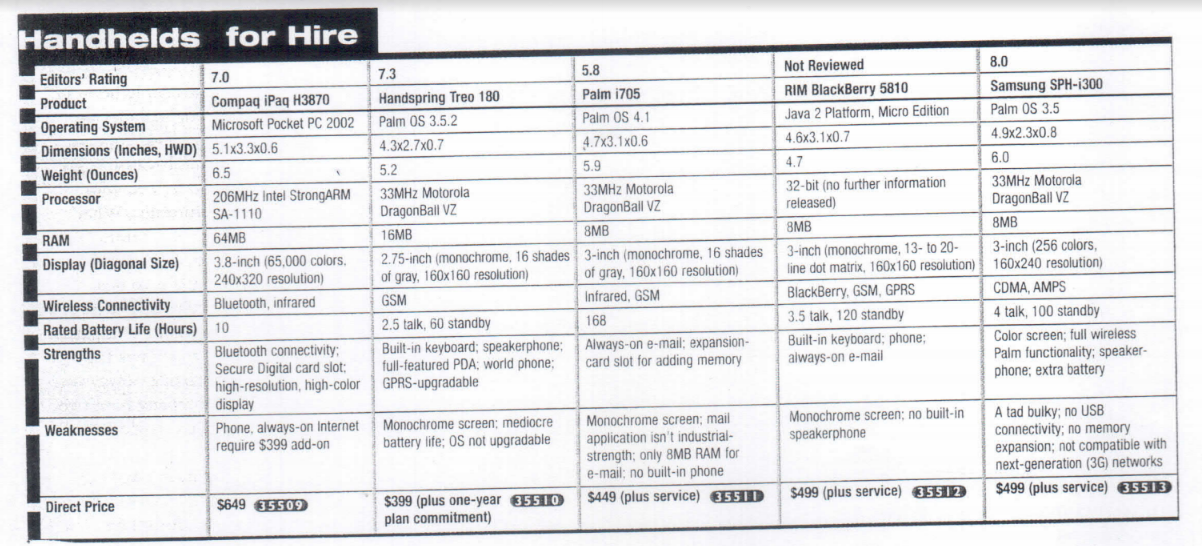 RIM BLACKBERRY 5810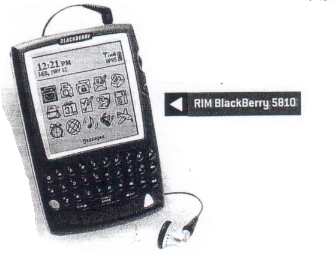 BlackBerry users tired of letting their thumbs do all the talking will appreciate the latest model's built-in cell phone. Like the company's 957, which has a thumb keyboard and monochrome screen, the 5810 combines always-on access to corporate e-mail with SMS, a wireless browser, and an electronic organizer. And it adds a built-in cell phone with Caller ID, call waiting, conference calling, and call forwarding (if you sign up for it).
We couldn't get our opposing thumbs on a unit in time for this review, but here are our first impressions. The earbud-style headset plugs into a jack on top of the unit. Because there's no built-in speakerphone, the headset is the only way to use the phone; you can't hold it up to your face as you can the Handspring Treo 180.
The 5810 employs GSM networks for voice services and the nascent GPRS network for always-in e-mail access. RIM sells a similar model in Europe, the 5820, that works with both networks, and in the future, you'll be able to move the 5810's SIM card o a 5820 for overseas access to e-mail and phone service, using the same phone number.
The Java 2 Platform, Micro Edition (J2ME) incorporates a number of useful integration features. Select a phone number in an e-mail, for instance, and the phone application places the call. Or talk on the phone while using the device's other features. You can also deploy custom Java application already found on many Nextel/Motorola cell phones. And because the 5810 works with the existing BlackBerry Enterprise Server, your company doesn't have to change its back-end infrastructure to support the 5810.
VoiceStream is taking orders for the 5810, which costs $499 plus service, and AT&T is accepting information from those interesting in signing information from those interested in signing up. But AT&T's GPRS network isn't completely rolled out, so it may be a while before it supports the device.
SAMSUNG SPH-i300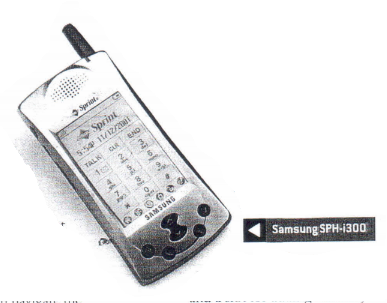 The Samsung SPH-i300 for the Sprint network is great for the road warrior who wants a phone that also happens to be a Palm-based PDA. It is reasonably sized, has a 256 color screen, and ships with a second battery. If only it were compatible with Sprint's upcoming 3G network and had a memory expansion slot.
The 6-ounce, 4.9×2.3×0.8-inch SPH-i300 couldn't be considered a compact phone, but it's small and light enough to slip into a pants pocket if removed from its faux-leather case. A slightly convex shape makes the device more comfortable to hold, and you can navigate the menus by touching the screen or using the up/down keys on the front or left side. The face lacks an actual dial pad, though; you'll have to make do with a virtual keypad. You can autodial numbers in the address book by tapping an onscreen button, and voice activate up to 20 phone entries. The built-in speakerphone springs to life at the touch of an icon.
The phone and the PDA have separate power buttons. A small monochrome LCD on top of the phone displays Caller ID info, time, data, and signal strength.
All the features you'd expect from a phone are here, including vibrate mode, multiple ring tones, and call history. You also get the Palm OS, wireless e-mail, fax functionality, Handspring's Blazer browser and Sprint PCS Wireless Web's WAP browser, and support for Web-clipping applications. (The phone can display 12 lines of text.)
The SPH-i300 gives you three options for e-mail: a built-in app with a free e-mail address (using yourphonenumber@sprintpcs.com), a downloadable client that accepts existing POP3 accounts, or corporate e-mail (if your company supports the device). We also uploaded the wireless AOL and Yahoo Web-clipping applications, and were able to log in, check, and respond to e-mail in our AOL and Yahoo accounts.
Because the maximum connection speed is 14.4Kbps, full-blown Web browsing is very slow. A single page load can take 3 minutes at this rate, and the time you spend surfing is deducted from your voice minutes. Samsung says you'll get 4 hours of talk time and 100 hours of standby time from the lithium-ion battery. Though we fell a little short of the standby rating, we hit the talk-time number. If you use the wireless data features regularly, as we did, you'll need to recharge after three days. That said, we applaud Samsung for providing an extra battery that charges simultaneously with the phone in the included cradle. The Samsung SPH-i300 is well-priced at $499. Our only misgivings are the lack of USB connectivity (it has a slow serial connection) and a slot for adding memory beyond the included 8MB, as well as its incompatibility with Sprint's upcoming 3G network.
NEXT ONLINE
They may sound great, but not all these devices will be successful. Their fate depends on the breadth, depth, and availability of quality service plans, as well as the pace at which high-speed networks are deployed. You'll likely see much more such devices in the coming months. Motorola, for instance, is taking the wraps off of several phone/PDA hybrids. Its Accompli 009 Personal Communicator resembles the RIM BlackBerry 5810, but adds a 256-color screen; the A388 looks more like the Handspring Treo 180, but swaps the keyboard functionality, browsers, e-mail, and messaging service, and both operate over GSM and GPRS networks.
The new Nextel Motorola J2ME i95cl flip phone comes outfitted with a 256-color display and supports Nextel's iDEN two way radio network and its extensive business-focused features, including downloadable maps.
FFor Pocket PC fans, the Audiovox Thera combines a built-in CDMA2000 1x-compatible cell phone with a PDA, similar to the company's Maestro Pocket PC. With it you can send instant messages, check e-mail, and browse the Web using the faster 1xRTT networks now coming online. At press time, Verizon was to be the first carrier to offer the device.
Source: Computer Shoppers