Workshop Title: 3rd IADSS Workshop on Data Science Standards – Hiring, Assessing and Upskilling Data Science Talent
Workshop Organizers: Usama Fayyad, Northeastern University / Open Insights (Workshop Chair) & Hamit Hamutcu, IADSS
Length of the Workshop: Half-day
Workshop Date: AUGUST 16, 2022
Background, Definition and Audience of the Workshop:
As the imperative to become more data-driven continues to permeate every aspect of business, the demand for data science talent (and more broadly, for data-literate employees across the spectrum) has exploded.  The resulting talent pipeline challenge has led organizations to pursue both external hiring and internal upskilling.  Competition for this talent is fierce – and, given the multi-disciplinary nature of data science, qualified resources are scarce. Confusion around skills and knowledge of what makes a data scientist, a data analyst or a data engineer makes this even more problematic. In many cases, organizations  end up looking for data science 'unicorns', i.e. rare breed of data science professional qualified across the vast range of skills from computer science to machine learning, from cloud computing to data storytelling or they hire the wrong person for the job, often resulting in frustration on the behalf of the employer and the employee. The task of developing and managing an analytics talent pipeline, external and internal, identifying the right individual for the organization's needs through an effective and efficient assessment process and as a result attaining a high-performing data science team is unfortunately an objective not very easily achieved, and usually reserved for the largest tech employers with seemingly limitless budgets. ​
The first workshop in this series was held at KDD-2019, organized by the Initiative for Analytics and Data Science (IADSS), where contributors discussed challenges in defining data related roles and ways to standardize skills and knowledge required for a variety of roles in analytics and data science space. The second workshop was held in KDD 2020, virtually, bringing together some of the top thinkers of the field on the topic of training data scientists. Co-chaired by Usama Fayyad and Xiao-Li Meng, Founding Editor-in-Chief of HDSR, aimed to discuss how we can better train data scientists with the skills and knowledge that the industry needs and explores how the industry and academia can collaborate to make sure we're not only meeting the demands of today but also preparing for the changes and challenges of the future.
This proposed 3rd workshop in the series, goes further into industry needs and practices around external and internal talent pipeline development for firms big and small, with an understanding of the data science job market, and informed by the collaboration between academic institutions and industry to meet the increasing need for talent. IADSS conducts ongoing research in this domain, and we will share detailed findings and observations, in addition to contribution from researchers and industry practitioners through an open call for papers / presentations and invited speakers. In order to achieve intended aim, workshop will be held as a half-day working meeting with short talks, invited panels and discussion sessions to plan for future steps in the topic.
​Attendance at the first two workshops: The first workshop held at KDD-2019 attracted over 200 attendees and involved very active and vigorous discussion of the hot topics. The program for the first workshop is listed on the KDD-2019 web site. The second workshop attracted a large virtual audience (exact number was not reported to us) and featured talks by co-organizers Usama Fayyad and Xiao-Li Meng as well as thought leaders such as Tom Davenport (Babson College) and Jeannette Wing (Columbia University).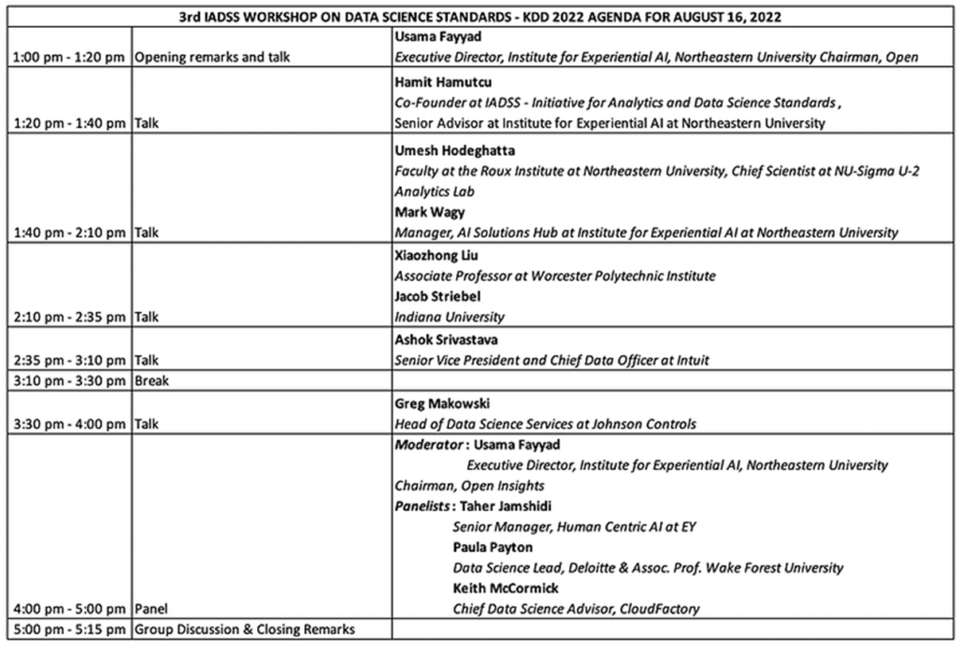 Full contact info of Workshop Organizers:
​
Usama Fayyad, Ph.D. (usama@open-insights.com),
Executive Director, Institute for Experiential AI at Northeastern University / CEO, Open Insights
cell: +1.408.242.8268 – office: +1-206-529-5123
​
Hamit Hamutcu (hhamutcu@iadss.org)
Co-founder, Initiative for Analytics and Data Science Standards / Senior Advisor, Institute for Experiential AI at Northeastern University
cell: +1/617.309.8426
Biographical Summaries of the Organizers
Usama M. Fayyad, Ph.D.
​
Usama serves as founder/CEO of Open Insights (founded in 2008) where he works with large and small enterprises on Artificial Intelligence/Machine Learning, BigData strategy, and launching new business models based on Data Assets: Most recently serving as Interim CTO for Stella.AI, a VC-funded startup in AI for HR/recruiting; and Interim COTO of MTN2.0 – helping develop new revenue streams in mobile payments/MFS and Data-as-a-Service businesses at MTN, Africa's largest mobile operator.
Usama was the first Global Chief Data Officer & Group Managing Director at Barclays in London (2013-2016) where he also took on additional role as CIO of Risk, Finance & Treasury Technology in 2015. From 2010-2013 Usama was the co-founder of OASIS-500, a tech startup investment fund, following his appointment as Founding Executive Chairman in 2010 by King Abdullah II of Jordan. Up until joining Barclays in 2013, he was also Chairman, Co-Founder and Chief Technology Officer of Blue Kangaroo Corp building a mobile search engine service for offers personalization and activation based in Silicon Valley. His background includes Chairman/CEO roles at several startups, including DMX Group (acquired by Yahoo!) and digiMine (Audience Science) which was founded in 2000 in Seattle to build hosted data warehousing and data mining solutions for Fortune 500 companies.
He was the first person ever to hold the Chief Data Officer (CDO) title when Yahoo! acquired his second startup in 2004. In addition to CDO, he was also the Executive VP of Research and Strategic Data Solutions where he was running Yahoo!'s global data strategy, architecting its data policies and systems, and managing its data analytics and data processing infrastructure. The data teams he built at Yahoo! collected, managed, and processed over 25 terabytes of data per day, and drove a major part of ad targeting revenue and data insights businesses globally. He also founded Yahoo! Research Labs where much of the early work on BigData made it open source and established the early collaborations that launched Hadoop and other open source contributions.
Usama held leadership roles at Microsoft (1996-2000) and founded the machine learning systems group at NASA's Jet Propulsion Laboratory (1989-1995), where his work on machine learning resulted in the top Excellence in Research award from Caltech, and a U.S. Government medal from NASA.
Usama earned his Ph.D. in engineering in AI/Machine Learning from the University of Michigan. He holds two BSE's in Engineering, MSE Computer Engineering and M.Sc. in Mathematics. He has published over 100 technical articles on data mining, data science, AI/ML, and databases; and holds over 30 patents, is a Fellow of the Association for Advancement of Artificial Intelligence (AAAI) and a Fellow of the Association of Computing Machinery (ACM). He is active in the academic community with several adjunct professor posts and is the only person to receive both the ACM's SIGKDD Innovation Award (2007) and Service Award (2003). He has edited two influential books on data mining and served as editor-in-chief on two key industry journals. He is an active angel investor and advisor in many early-stage tech startups across the U.S., Europe AAI at UTS, and The University of Michigan College of Engineering.and the Middle East. He served on the boards or advisory boards of several private and public companies including Criteo, Invensense, RapidMiner, Stella.AI, Martini Media, Virsec, Silniva, Abe.AI, Medio, NetSeer, Choicestream, and others. On the academic front, he is on advisory boards of the Data Science Institute at Imperial College,
Hamit Hamutcu
​
Hamit has over 20 years of industry and consulting experience in the areas of analytics, customer relationship management and marketing strategies driven by data. He is a co-Founder of Analytics Center, a company focused on the use of data and analytics in business as well as an advisor or investor in several analytics related initiatives that work in developing vertical machine learning solutions for industries such as advertising and e-commerce.
Hamit was a Founding Partner for EMEA offices of Peppers & Rogers Group, the leading customer-led business strategy consulting firm based in the U.S. He then led the development of the firm in the region by serving clients across the Middle East, Africa and Europe. He also worked as a Partner for the firm's US office heading up its global Analytics group. In this capacity he oversaw the growth of the analytics practice and helped his clients develop analytics functions, build data infrastructure and deploy analytical models to support business goals.
His industry experience includes several positions within Federal Express in Memphis in marketing analytics, and technology where he led IT and business teams to leverage the enormous amount of data the company generated to serve its customers better.
Hamit is also a frequent speaker, writer and board member at various start-ups and non-profit organizations. He earned his B.Sc. degree in Electronics Engineering at Bogazici University in Istanbul and his MBA degree at the University of Florida.