One of the most impressive success stories when it comes to online apparel sales is J. Crew. The clothing giant, which operates 140 retail and factory-outlet stores and does substantial catalog sales, saw its Jcrew.com Web site increase revenues in the first half of fiscal year 2001 to $46.3 million from $36.9 million over the corresponding period the previous year.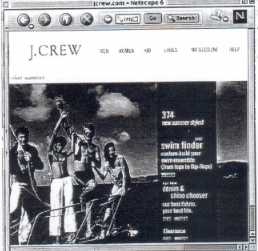 It's not just happenstance that Web site revenue is surging (and it appears to be at the expense of catalog sales). Behind the scenes is a Kirkland, Wash-based company called DigiMine, which created and operates a secure, private "data warehouse" for J.Crew, DigiMine's hosted services and proprietary software are designed to help business gain insight into online customer behavior and habits by uncovering meaningful patterns.
The result of this "predictive data-mining technology" direct Web shoppers visiting Jcrew.com to other clothing, shoe or accessory recommendations. J.Crew receives daily Web-based reports about customer interests and demographics, product sales and buying trends, and marketing-campaign responses, all of which go well beyond basic Web-traffic measurement. By integrating these multiple data sources into a comprehensive view, it is then able to make sophisticated marketing decisions.
The result is that Web shoppers visiting Jcrew.com receive personal attention, which increases customer satisfaction and loyalty and ideally leads to more and larger orders, according to DigiMine. Based on its success with J.Crew, DigiMine has established a similar relationship with Seattle-based Nordstrom's online arm, Nordstrom.com to deliver its integrated analysis of click-stream, product catalog, promotion and transaction information.
By: Jacques Maraquette
Source: Apparel News