Site analysis tools tend to overwhelm users with report query complexities, making their use as attractive as going to the dentist. Luckily, tools such as WebSideStory's HitBox make the job easier using Macromedia Flash-driven report interfaces.
We recently saw another promising tool in action, digiMine, which features an interface resembling Microsoft Outlook, the popular e-mail tool: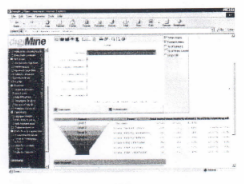 Co-founded by three former Microsoft employees, which explains the interface and Microsoft SQL 2000 foundation, digiMine is an ASP-based solution, requiring minimal support from an IT group.
DigiMine Vice President of Marketing and Product John Samuel tells ICONCAST the company has 40 customers, including CBS MarketWatch, Getty, J. Crew, Microsoft's bCentral and, believe it or not, Crayola.
Source: ICON CAST