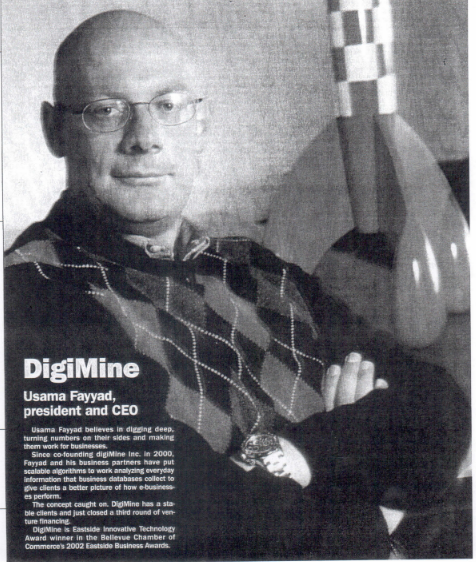 Former Microsoft executives Usama Fayyad, Nick Besbeas and Bassel Ojjeh have figured out a way to dig deep into the data that businesses collect daily and make it work for them.
The trio, who had worked miracles with algorithms and marketing materials for Microsoft, left the software giant and formed digiMine Inc. in 2000.
They developed technology that scans a client's database, analyze the information and predicts future outcomes – overnight.
It is for this cutting-edge technology that digiMine is the Eastside Innovative Technology Award winner for the Bellevue Chamber of Commerce's 2002 Eastside Business Awards.
Judges selected the Bellevue-based business because it has developed a creative and innovative product or process which is technology intense and demonstrates evidence of foreseeable success.
What digiMine CEO Fayyad and his cofounder had in mind when they started the company was a product that could help e-businesses improve return on investment, analyze customer behavior and demographics, personalize Web sites and help solve sales conversion and customer loyalty issues.
DigiMine decided it could do this overnight, process the information and provide a usable report back to businesses by the next morning.
Less than six months later they rolled out their service as a commercial product, with about 40 employees and eight paying customers, all of whom had been signed up as beta-testers for the product.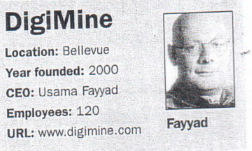 Since then, the staff has tripled. Company revenues have gone from about $1 million in for 2000 to more than $7 million in 2001.
A number of high-profile companies have signed up with digiMine, including J. Crew, DaimlerChrysler, Dow Jones, Nordstorm, Microsoft Corp., AT&T Wireless and CBS Marketwatch.
This month, the privately-held company announced it has raised $20.3 million in a third venture round, bringing its funding so far to $45.8 million.
Source: Business Journal