Published by Northeastern Global News on January 27, 2023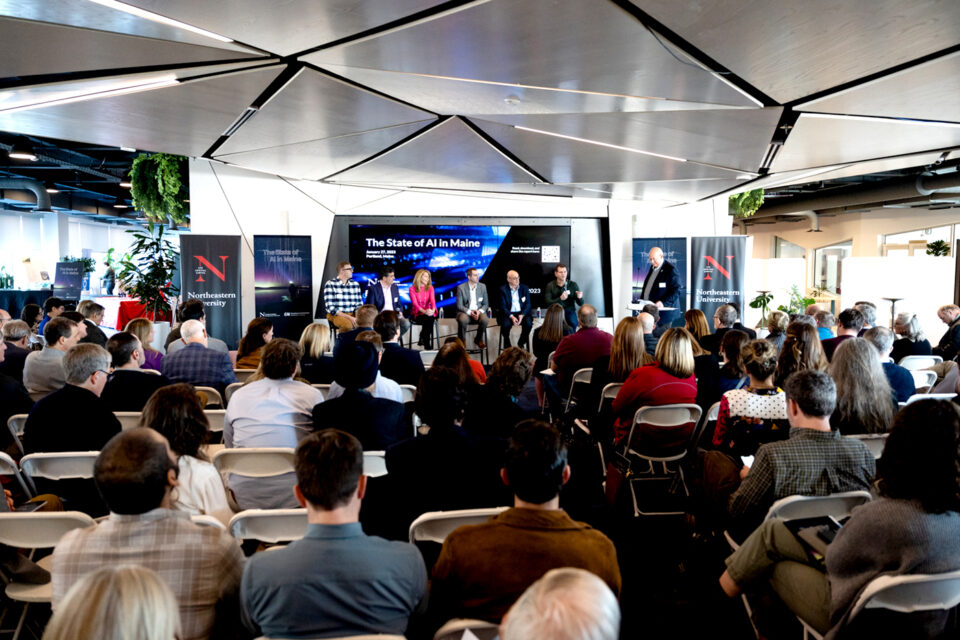 PORTLAND, Maine—From the cold waters in the Gulf of Maine to the deep forests of the North Woods, artificial intelligence is accelerating in Maine.
AI is also progressing in health care, life sciences and financial technology sectors, according to experts at the "State of AI in Maine," an event held at Northeastern's Roux Institute on Friday.
"Maine represents a fascinating example of how AI is helping to transform an old economy into a new one," said Usama Fayyad, executive director of the Institute for Experiential AI at Northeastern University, in a 64-page report presented at the inaugural AI event.
More than 400 people attended the event—plus an additional 200 online, including business leaders, educators, data scientists and policy makers. The Roux Institute and Northeastern's Institute for Experiential AI presented the event and drafted the report.
AI applications are proliferating in the state, said Michael Pollastri, senior vice provost and academic lead of the Roux Institute, which was also marking its third anniversary. "It's clear Maine's legacy industries are changing. We have to ensure an ethical change."
Maine's economy has been driven for generations by fishing, logging, forestry, tourism and hospitality. Now, experts say, the businesses—many with the help of the Roux Institute—are exploring and developing ways to utilize automation and AI to augment human efforts in those legacy industries.
Fayyad and other experts said Maine can be a national and world leader in many areas of AI applications.
Raimond "Rai" Winslow, a computational medicine expert based at the Roux Institute, is the principal investigator in a research project conducted with MaineHealth that aims to take complex data sets about patients in the state's largest cardiothoracic ICU and translate them into metrics that can be used to provide better outcomes. The project is known as HEART, for Healthcare Enabled by AI in Real-Time.
Winslow said AI helps make the right prediction, diagnosis and therapy for a particular patient.
"My goal is to make us the leader in the world in computational medicine," Winslow said in an interview Friday.
"We know its value. It's now putting it into practice and translating it into the clinic. I think it's perfect for a place like Maine where there are urban-rural health care disparities. I think we can become a national model for how to address urban-rural health care disparities through AI enabled health care. I believe what we do here will spread into other areas of the country because there is an aspect of this in every single state in this nation," Winslow said.
Maine's early AI adoption, particularly in health care, education and natural resources, presents a potential case study in how a rural tourist economy can compete on a global scale, according to experts.
"With an unprecedented use of environmental AI now mapping forests and monitoring fishing boats, for example, there's an opportunity for others in remote areas of the country to learn from the state of AI in Maine," the report said.
In one of those heritage industries—fishing—New England Marine Monitoring is aiming to incorporate AI into its operation. The Portland-based company is developing AI to automatically identify fish based on their tissue structure.
Studies have shown that at least 20% of fish are tagged incorrectly. NEMM founder Mark Hager has patented Filet Finder, a smartphone app that uses recognition software to analyze thousands of photos to identify the species. Hager said in a trial study the image identification program has shown to be about 99% accurate.
"If you buy fish you want it to be what you thought it was," Hager said during a panel discussion at the event.
In that panel discussion, one of several held Friday, experts discussed how AI is helping to tackle unrivaled challenges, from climate change to the energy crisis, and how the most rural state in the country is applying AI or machine learning tools in natural resources and heritage industries.
Ashley Ballanger, continuous improvement analyst at J.D. Irving's Ashland Sawmill, said the mill traditionally used a chemical to identify timber. Now the mill uses an AI data visualization system—similar to the NEMM model—that has improved identification from 88% to 98% efficient.
Business leaders and AI experts emphasized that these systems augment human efforts. Fayyad said in the report that the Institute for Experiential AI at Northeastern University believes the human contribution is significant to the operation of an AI system and the right way to approach advances "meaningfully and effectively."
Stephen Smith, CEO of L.L. Bean, said machine learning has helped his employees forecast future purchasing as they navigate increasingly complex supply chains. The retail company has $2 billion in annual sales and 70% is ecommerce, he said. The company's data scientists add information "the systems don't know" and create better algorithms as they map out 80,000 products.
"We need humans to then be looking at that, that level of data. Supply chain is hugely sophisticated for us. It's our single largest asset, $600 million a year, supply chain," Smith said.
The "State of AI in Maine" report offers a baseline, or measuring point, Fayyad said, identifying how machine learning and computer assisted intelligence are being used in the state. 
View online