Published by Forbes.com on April 20, 2022
Gil Press
How to do AI right? How to make AI successful in the real world? What is the best way to help traditional companies and industries implement AI?
Aiming to answer these questions, Northeastern University launched earlier this month a new research center, the Institute for Experiential AI. It is a part of the Roux Institute in Portland, Maine, established by Northeastern two years ago with a $100 million grant from David and Barbara Roux, offering graduate programs in high-growth fields.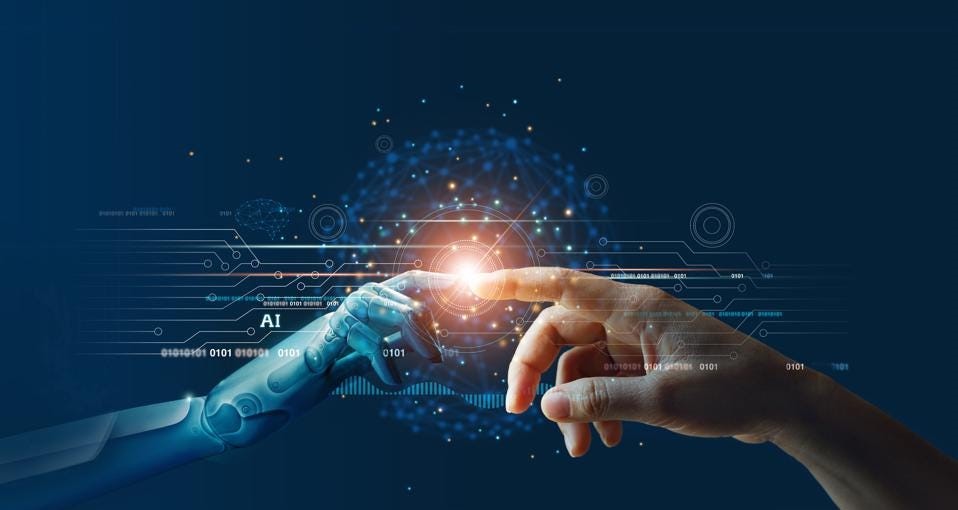 At the launch event for the Institute for Experiential AI, David Roux, managing partner at BayPine, joined Northeastern University President Joseph Aoun to discuss the why and how of the new endeavor. "American education is fundamentally underinvested in the future of technology," said Roux. To help address this challenge, the Roux Institute represents a "major investment in the next generation of training."
Northeastern University's traditional focus on working with leading companies and understanding their needs, infusing real-world experiences in all its programs, is key to teaching students "the curriculum that the ultimate customer thinks is important," said Roux.
The university-industry collaboration works both ways. "Industry now is generating research that is equal, and in some domains, superior to, what is happening in higher education," said Aoun. "So education needs industry in the same way that industry needs education."
Hence the emphasis on experience, real-world business experience, and the focus on combining human with artificial intelligence. Usama Fayyad, the executive director of the Institute for Experiential AI calls it "human-centric AI," combining the data crunching and automation capabilities of machine intelligence with the commonsense reasoning and intuitive decision-making unique to humans.
"The largest implementation of machine learning on the planet is Google's search engine," said Fayyad at the launch event. This "magical technology" is a prime example of the advantages of human-machine collaboration, as it is based on "input from people over the last 20 years."
Since getting his PhD in computer science and engineering from the University of Michigan in 1991, Fayyad has worked in the data science and machine learning fields in large organizations (Barclays, Microsoft, Yahoo!, NASA) and as a founder or co-founder of a number of startups.
An important dimension of Experiential AI for Fayyad is data management skills: "Most working AI is basically figuring out how to deal with data… what do you do when half the data is missing and a third is wrong?" Human intervention at the right time ensures the correct leveraging of data, amplifying the effects of machine learning and mitigating bias, thus yielding more responsible AI solutions. "You need people in the loop at design time, at testing time, and at governance and oversight time," said Roux.
"You cannot do AI unless you bring in the human dimensions," added Aoun. In his book, Robot-Proof: Higher Education in the Age of Artificial Intelligence, Aoun coined the term "humanics" to describe the combination of technological, data, and human literacies, an interdisciplinary approach to solving global challenges. According to its recent academic plan, Experience Unleashed, the university will recruit 500 new faculty members over the next five years, creating clusters of diverse expertise and experience, "untethered from the constraints of siloed disciplines."
The Institute for Experiential AI will be one of these interdisciplinary research centers, with up to 30 new faculty members that will collaborate with existing Northeastern faculty across a variety of disciplines. Moreover, members of the institute will have easy access to Northeastern's global network of co-op employers, keeping its research and teaching anchored in real-world applications of AI.
As Fayyad wrote on these pages: "To make AI trustworthy and keep developments healthy, it should be done in highly applied settings that demonstrate real, credible solutions to actual problems and an ability to cope robustly with live data and environments. Establishing definitions and producing effective training mechanisms for talent development in this field is best done by working in an environment where applications uncover real issues and address company needs."
One such highly applied setting was described at the Institute's launch event by Lila Snyder, CEO of Bose Corporation. The company is applying AI to improve users' experience of its products, to better understand its supply chain, and to find new insights in its customer data. Most intriguing for Bose is the contribution of AI to advancing its core competency of audio processing.
"Being able to articulate which sounds you want to hear versus those that you don't, and using data to identify them… is an incredibly important part of how you want to experience audio devices going forward," said Snyder. "There are things that you want to hear and things you don't want to hear. The power of AI and data is that we can start to discern the difference between the two."
Read online