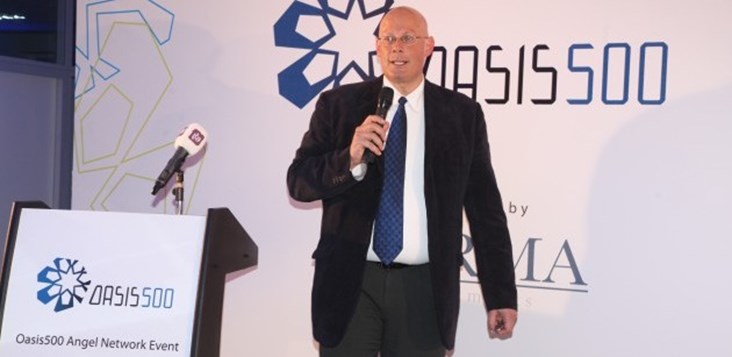 Amman, March 2012 – Oasis500, the MENA region's premier early stage and seed investment company, held its 4th Angel Investment Network Event on Wednesday 14th March, 2012, in Amman. As a result of their resounding success, Oasis500's Angel Investment Network Events have become a leading platform for start-ups to share their projects and pitch for investment opportunities.
The 4th Angel Investment Network Event was attended by a group of local, regional and international investors, Oasis500 partners and mentors, in addition to online and offline media representatives. The event showcased the presentations of six fast-growth and investment-ready entrepreneurial startups within the Information and Communications Technology (ICT), digital media and mobile technologies from across the MENA region.
The start-ups included Little Thinking Minds, a multimedia company that offers Arabic educational DVDs, audio CDs, books and flash cards; Ijazza, a mobile development house and content provider that develops tailored applications for businesses across different sectors; and Roznamti, an online social calendar that allows users to share and select events as favorites and synchronize them with personal e-calendars and smartphones. Also presenting ideas at the event were Shawweet, an online social media platform targeting soccer fanatics offering them a number of social networking features including sharing news, discussions, match highlights, games and more; Tadreesna, an online tutoring portal with features such as an interactive board, text and voice chat; and Manzil.me, the region's first pay-for-performance real estate rental portal that provides users with accurate, bi-lingual, up-to-date, interactive and informative property listings in a number of cities across the region.
"Our Angel Investment Network Events play an extremely crucial role in helping entrepreneurs from across the MENA region to overcome the challenge of securing capital for their ventures," commented Dr. Usama Fayyad, Chairman of Oasis500 and former Executive Vice President and Chief Data Officer of Yahoo! Inc. "Our previous Angel Investment Network events were extremely successful in terms of the quality of showcased start-ups and the significant financial investments they managed to attract, where 10 start-ups received over USD$8 million. We look forward to holding many more similar events and we are both proud and honoured to be involved in facilitating the success of these start-ups."
Oasis500's 3rd Angel Investment Network Event, held in December2011, highlighted five start-ups that included: Arabia Weddings, Aqar Estate, Al Nassah, Progressive Generation and Ebshir. The Company's 2nd Angel Investment Network Event, which took place in September 2011, showcased six start-ups that included: Zaytouneh, TendersGate, Darebni TV, Ishra7, Jamalon and Menwayn, whilst the 1st Angel Investment Network Event brought forth: Wheels Express, Masmoo3, Curlstone Studios, 01 Tracks, Fustuq and MarkaVIP.
Oasis500 is the first development and investment company of its kind in the MENA region. It aims to support entrepreneurs by providing them with funding and training in an effort to accelerate the transformation of business ideas into start-up companies in the ICT, digital media, and mobile technologies and content sectors. Oasis500 aims at accelerating the launch of 500 start-up companies within the next five years, which will create an incentive for aspiring entrepreneurs and generate job opportunities within the world's fastest growing sectors. Since commencing its operations in September 2010, Oasis500has successfully secured investments for 49 technology companies, in addition to a number of investments that were unmatched by any investment fund in the region.