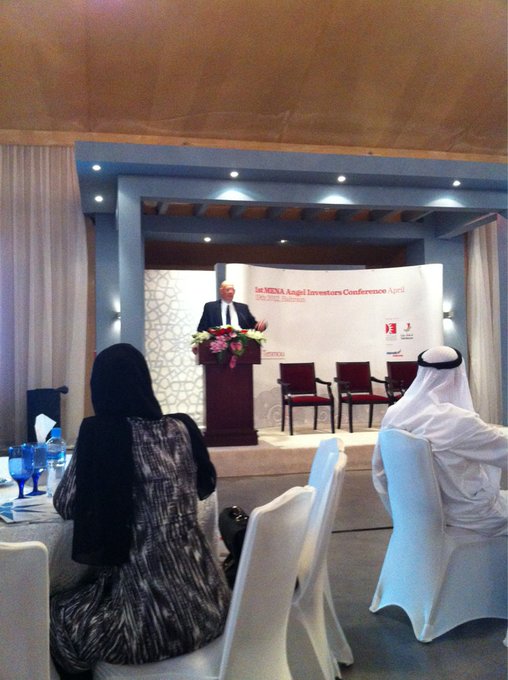 Amman, April 2012 – Oasis500, the MENA region's premier early stage and seed investment company, participated in Tenmou's first MENA Angel Investor Network Conference. The Conference was held on 19th April, 2012, at the Ritz Carlton Hotel in Bahrain, and was attended by regional investors as well as 11 promising Oasis500 Jordanian start-ups that are pitching for financing from GCC investors.
Success stories and case studies were presented on Oasis500, The Centennial Fund, Tenmou, Start-up Labs and Tamkeen.
The 11 Oasis500 start-ups also showcased their fast-growth and investment-ready entrepreneurial business models within the ICT sector. The start-ups included Feesheh.com, the first online music store in the Middle East offering music enthusiasts a wide range of music instruments at competitive prices; Ishra7, a company that produces short and compelling video explanations that simplify and clarify messages; and Gallery Al Sharq, a website that sells oriental media services.
Presenting start-ups also included First Bazaar, an online store for handmade fashion, home decor and vintage products; GateXpress, an online remittances platform that provides banks and financial institutions with secure currency exchange and transaction services; ShopGo, an e-commerce platform developed to establish e-stores in the MENA region; and Masmoo3, the first specialized digital audio books production and publishing house in the Arab World that aims to popularize and make audio books available to reading enthusiasts.
Also amongst the Oasis500 start-ups pitching in Bahrain were Roznamati, an online social calendar that offers information on a wide number of events under different categories such as TV shows and sports, in addition to cultural and entertainment activities; Manzil, the first real estate rental portal that provides detailed information on real estate in the Gulf area and the region; Little Thinking Minds, which produces educational multimedia products such as applications and DVDs for children; and Ekeif, an online platform for short how-to free videos in Arabic.
"Today's Conference presents a valuable opportunity for us to begin expanding our regional presence and to highlight the ability of our 11 start-ups in bringing GCC investments to Jordan," commented Dr. Usama Fayyad, Chairman of Oasis500 and former Executive Vice President and Chief Data Officer of Yahoo! Inc. "We were able to showcase a number of innovative Jordanian companies that deserve to be supported and have contributed to further positioning the Kingdom as a center for entrepreneurship and ICT start-ups across the region. This is in line with His Majesty King Abdullah II's vision to activate the role of the King Abdullah II Fund for Development in driving entrepreneurship and innovation and empowering Jordanian human resources through the establishment of leading developmental companies," he added.
Oasis500 is the first development and investment company of its kind in the MENA region. It aims to support entrepreneurs by providing them with funding and training in an effort to accelerate the transformation of business ideas into start-up companies in the ICT, digital media, and mobile technologies and content sectors. Oasis500 aims at accelerating the launch of 500 start-up companies within the next five years, which will create an incentive for aspiring entrepreneurs and generate job opportunities within the world's fastest growing sectors. Since commencing its operations in September 2010, Oasis500has successfully secured investments for 49 technology companies, in addition to a number of other investments that were unmatched by any investment fund in the region.