In collaboration with leading Venture Capital firms and investment funds, Oasis500 launches new business investment track.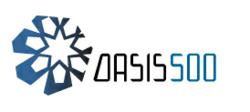 "In our first two years of operation, we invested in approximately double the target number of start-ups, and it has become clear through this experience that many established companies can greatly benefit from our investment fund" Usama Fayyad, Oasis500
AMMAN (PRWEB) JANUARY 31, 2013
Oasis500, the MENA region's premier early stage investment company and technology start-up accelerator program, announced that it has launched a new investment track targeting established businesses, to complement its seed and early-stage investments tracks. The new investment track targets companies that have been operating in the market for over 1-2 years and require capital to accelerate their product and market expansion plans. The launch of the new business investment track corresponds with Oasis500's goal to support a growing segment of aspiring entrepreneurs and SMEs, and comes as a result of the unprecedented success that the early-stage investment fund has garnered.
The new business track is aimed at enabling established companies to further accelerate and grow their businesses locally regionally and internationally, as well as receive follow-on and Series A investments from Oasis500. The amount of investment can go up to USD $500,000 for businesses that provide a proven business case. Interested ICT companies that have a proven record, a prototype or proven market product can now apply to Oasis500 by submitting their applications to http://www.oasis500.com/grow/
"At Oasis500, we are frequently approached by established businesses who seek to receive different forms of professional support. This has spurred us to launch this new business investment track which addresses a critical segment of growing technology companies," commented Dr. Usama Fayyad, Executive Chairman of Oasis500 and former executive vice president and chief data officer of Yahoo! Inc. "In our first two years of operation, we invested in approximately double the target number of start-ups, and it has become clear through this experience that many established companies can greatly benefit from our investment fund as well as our specialized training and acceleration program," added Dr. Fayyad.
Oasis500 operates an intensive training program for entrepreneurship skills and provides critical training on how to build and run an investment-worthy fast-growth technology company. This training program, coupled with its unique acceleration program and mentor network, prepares companies to attract larger follow-on investments from angel investors and VCs.
The new investment track is being launched in partnership with key early-stage investment funds to provide entrepreneurs and their existing companies with the support they need. Oasis500 has partnered with Badia Impact Fund of Accelerator Technology Holdings (ATH) an active regional venture investment fund; WAMDA, an investment fund and platform aimed at inspiring and connecting entrepreneurs; and MENA Ventures, a true early-stage focused angel investment fund operating from Jordan. These partnerships were established in order to aid Oasis500 in providing help and guidance with regards to evaluating candidate companies, giving business plan feedback and setting up the right KPI's to ensure that qualified companies can attract appropriate venture and follow-on investments.
Under this new business investment track, Oasis500 has created a program which includes investment and mentorship, legal, financial, marketing and PR services, as well as business and investment coaching.
Commenting on the new partnership with Oasis500, Emile Cubeisy, Managing Director of Badia Impact Fund at Accelerator Technology Holdings (ATH), said, "We believe many existing companies can qualify for venture investments if they go through an acceleration program like Oasis500 and prove that they can scale faster and hence become attractive venture investment prospects."
In this regard, Habib Haddad, CEO of WAMDA and Founder of Yamli, also stated, "Some existing companies face certain obstacles that prevent them from scaling and growing at the rate that they should, and with the right support, their potential can be unlocked. This is exactly what we do at WAMDA and are happy to start achieving this goal in partnership with Oasis500."
Oasis500 is the first development and investment company of its kind in the MENA region. It aims to support entrepreneurs by providing them with funding and training in an effort to accelerate the transformation of business ideas into start-up companies in the ICT, digital media, and mobile technologies and content sectors. Oasis500 aims to facilitate the launch of 500 start-up companies within the next five years, which will create an incentive for aspiring entrepreneurs and generate job opportunities within the world's fastest growing sectors. Since commencing its operations in September 2010, Oasis500 has successfully secured investments for 55 technology companies, in addition to a number of other investments that were unmatched by any investment fund in the region.