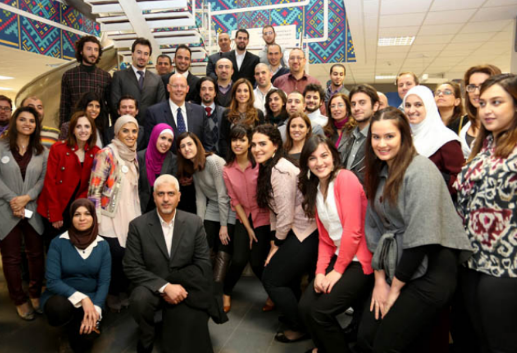 Her Majesty Queen Rania with Jordanian entrepreneurs and beneficiaries of the Oasis500 fund in Amman on Tuesday (Photo by Nasser Ayoub)
AMMAN — Her Majesty Queen Rania on Tuesday paid a visit to Oasis500 where she met with the management of the development and investment firm as well as young entrepreneurs running start-up ICT and digital content companies who showcased their progress, achievements and future plans.
At the Oasis500 headquarters in King Hussein Business Park, Her Majesty was received by Oasis500 Executive Chairman Usama Fayyad and King Abdullah II Fund for Development Chairman Omar Razzaz, according to a statement released by the Queen's office.
Queen Rania toured the new NAJEM facility which His Majesty King Abdullah inaugurated in November 2012.
The Oasis500 companies, team and board members discussed the latest changes in the ICT sector, and the challenges and opportunities they face to develop their businesses and take them to the regional and international level.
At the start of the tour, the Queen met representatives from nine companies currently incubated at Oasis500: ArabiaWeddings, a wedding planning website; First Bazaar, an online retail store; Smart
Order, an electronic menu operator; Gweet, an online alternative accommodation service; Cheezu, a photo book-making online service; Progressive Generation, an animation studio; Blue Kangaroo, a personalised deal search online service; Aqar-Estate, an online market place for real estate in the Middle East; and I3zif.com, an online music centre.
Her Majesty then attended a meeting with 20 entrepreneurs who spoke about the launch of their companies.
KAFD Director Qais Qatameen, Zain CEO Ahmad Hanandeh and a number of Oasis500 board members also attended the meeting, which included brief presentations by the start-ups, an overview of the entrepreneurship sector in Jordan and an open discussion on the companies' challenges and opportunities.
"This is very impressive, very creative. You should be proud of yourselves and of your companies,"
Her Majesty told the young entrepreneurs, adding that efforts should be stepped up to attract more support for such firms in order to expand and promote them inside and outside Jordan.
Noting that these projects have a Jordanian and Arab character, the Queen said they will, in the future, open the door for new work opportunities as well as fuel creativity in the sectors they represent.
The young entrepreneurs thanked the Queen for taking an interest in their work, the statement said.
Fayyad gave Her Majesty an update on Oasis500, including the new investment track for existing companies which was launched to help them acquire a much larger growth capital from investment funds.
The new track targets companies that have been operating in the market over the past two years —either firms that have a market-proven product or those that have developed a new ICT product/service which they need to take to the market or expand its existing market.
The entrepreneurs who briefed Her Majesty on their companies included representatives from Jamalon, a website that makes Arabic titles available through its publish-on-demand services and Ekeif, an Arabic video website/mobile application that develops "how to" short videos.
Others include Curlstone, an Arab entertainment house specialised in creating digital content; Abjjad, a social network for book lovers to create reading lists and share book reviews; Sajilni, a website with listings of all the events, courses and activities in different cities; and Feesheh, an online music store.
Her Majesty was also briefed by Gallery Al Sharq, a website that sells oriental media services; ishra7, which offers a new way to communicate with the target audience through producing trailers to simplify messages; Shopgo, an e-commerce platform for the MENA region; Little Thinking Minds, producers of Arabic educational multimedia DVDs, audio CDs and applications for children; and Masmoo3, a specialised digital audio books production and publishing house.
Oasis500, the first development and investment company of its kind in the MENA region, seeks to facilitate the launch of 500 start-up companies within the next five years with the aim of creating an incentive for aspiring entrepreneurs and generating job opportunities, the statement said.
Since commencing its operations in September 2010, Oasis500 has successfully secured investments for 56 technology companies, which were able to attract $8 million in investments and raise their capital to around$15 million.
Author: JT
View Online / PDF