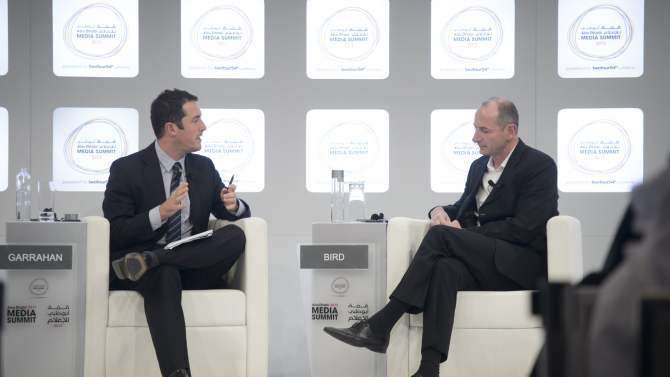 Disney is producing more movies in India than it is in Hollywood
British computer scientist Sir Tim Berners-Lee and Disney International Chairman Andy Bird kicked off the 4th International Abu Dhabi Media Summit Tuesday with separate but intersecting takes on where digital evolution is heading.
They both said it's moving fast, and smartphones are the next frontier.
Berners-Lee, considered the inventor of the Web, also warned about the risk of governments spying on people and about the need for it function as level playing field as a marketplace.
"When you use the web, you have to know that you can use it with impunity; that nobody is looking over your shoulder," he said speaking from New York in a live link.
"And it has to be open also in the sense that if I start a new company, be it indpendant films for example, that if I put products for sale on the web, that will be an open market," added the Web pioneer who now directs the World Wide Web Consortium.
In a separate onstage interview which followed the opener, Bird held forth about how digital has prompted Disney to remain relevant to consumers around the planet by becoming blended in with local markets.
Bird said ten years ago Disney was "just an export company."
"The majority of the time, most of what we would do to localize our product was just dub it."
"As Sir Tim was saying, the world – largely thanks to his efforts – has accellerated at such a fast pace that it's really so important for a company and a brand such as ours that we remain relevant in front of consumers and remain relevant culturally," he explained.
Therefore these days, "what we've being striving to do is really move from being, for example The Walt Disney Company China to being the Chinese Walt Disney Company," and ditto with Disney in India, and other territories, Bird said.
Bird called Disney's inroads in China and India two "diametrically opposed aproaches."
In China, where foreign animation has been banned on primetime for few years to help support the growth of local animation, Disney has built a strategy "very much based on licensing and retail" with theme parks in various stages in Hong Kong and Shanghai," among other ventures.
By contrast, "we now produce more movies out of India than we do out of Hollywood," Bird said, following their purchase two years ago of market-leading Indian film and TV group UTV.
Elsewhere in Asia, Bird noted that South Korea, which has probably the most sophisticated, penetrated and highest speed broadband and mobile service in the world, is a testing ground for how consumer habits are changing.
Disney there is trying new digital business models to deliver video, working with Marvel on digital web publishing ventures that utilize the really high bandwidth and mobility.
"One of the intersting things that mobile and smartphones bring is this ability for consumres to snack on media and snack on content," Bird pointed out.
"There are very popular services in Asia, similar to Vine in the U.S., where people are posting content of six-to-15-second duration, so we spent a lot of time thinking: what's the impact of that consumer behaviour on ourselves?"
With the Middle East-North Africa (MENA) region rapidly becoming among the planet's most digitally enabled populations on the planet, this year's Abu Dhabi Media Summit has selected Leveraging The Digital Age as its theme this and expanded the event's scope beyond media and entertainment into e-learning and social gaming.
Speakers at this year's event will also include: Mark Hollinger, President and CEO, Discovery Networks International; Shailesh Rao, who is Twitter's VP, International Operations; Viacom International's Raffaele Annecchino, in charge of Southern Europe and the MENA region; and Anant Agarwal, President, edX, the non-profit created by Harvard and MIT to bring top-notch education to students all over the world via the Internet; and Usama Fayyad, Executive Chairman of Jordan-based Oasis500, which provides seed coin for mobile and digital media startups in the MENA region.
The three-day high-profile invitation-only event ends Thursday.
Author: Nick Vivarelli