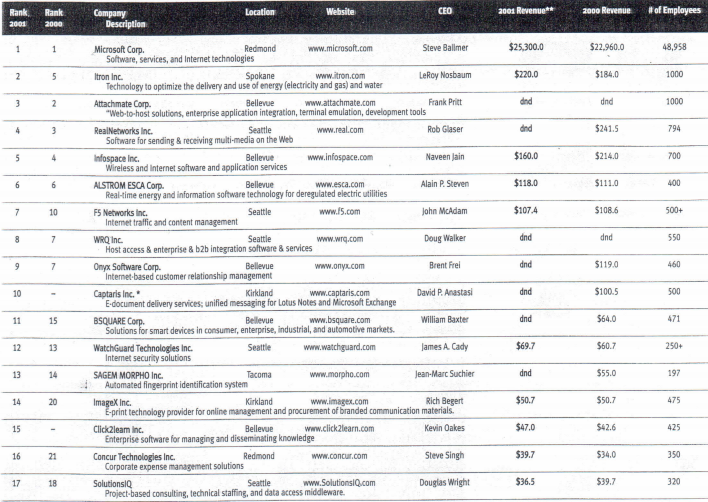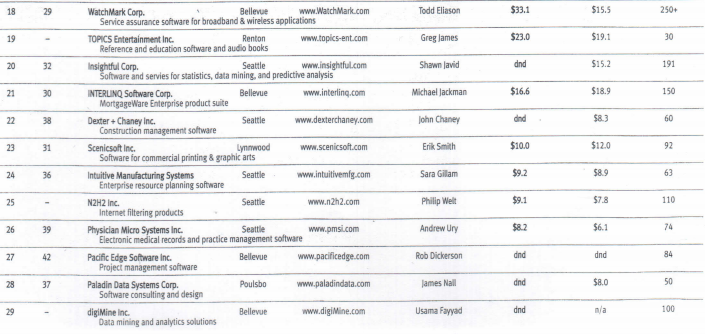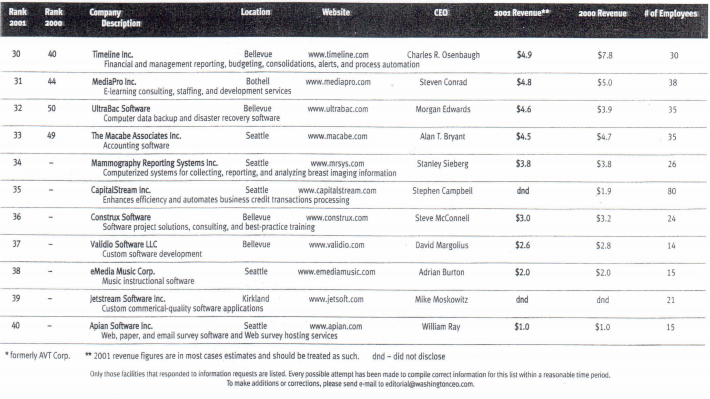 SPINNING THE TOP 40
Despite the current gloom engulfing the high-tech sector, some software companies are not only surviving but also thriving, focusing on what it takes to rise above the pack.
These companies are highlighted on this year's Top 40 Software Leaders list.
Many of the big names, such as Microsoft. Attachmatte, and Itron, once again displayed their staying power. But this year's list is also filled with a bevy of smaller firm vying for a position among Washington State's elite software companies.
DigiMine Inc., a relative newcomer to the Washington software industry, was created by three former Microsoft veterans. It combines their knowledge in data mining, direct marketing, and data warehousing to help business obtain the most value from their data to increase a given company's competitive advantage.
"We help companies manage, analyze, and act on their data," says Joel Sider, digiMine's communications manager. DigiMine's current clients include Crayola and retail giant J. Crew.
Sider says he is optimistic about the enterprise software world, and he says the current downward trend as temporary. "We've experienced tremendous growth and continue to receive substantial financial backing from our investors." He says.
While it is interesting to take note of the industry's rising stars, what happened to companies that appeared on past lists but are absent this year? One no longer exists, others have moved out of state, while still others have been acquired or merged.
Data Dimensions Inc., Active Voice Inc., ConneXt, and Aris Corp., supplier of test-bench automation and interface specification solutions, merged with San Jose-based Forte Design Systems.
Chase Bobko Inc. ceased operations after 14 years in the industry: after being hit with a substantial amount of dot-com and other debt. The company could not continue with it dwindling economic health. Its Web site displays a simple statement informing its employees, clients, and service providers that the decision to discontinue Chase Bobko was not taken lightly.
Washington's software industry provides a substantial amount of intrigue to our region, as it is one of the most unpredictable sectors from year to year. With the looming economic uncertainty that many in the industry are facing, we will watch its fluctuations with interest, nothing which companies make a return to next year's list and also those that don't. Stay tuned.
By: Amy Wicks
Source: Washington CEO