This article was originally written by Julien Brault and published in les affaires magazine, issue no. 23. This is an English translation of the original article.
King of startups
Amman, in Jordan, is emerging as the most dynamic city of start-up companies in the Arab world. Proof of this fact can be found in its IT sector which is currently experiencing a growth of 25% per annum.
Owing to a combination of political stability, a partly uncensored internet network and a highly educated population, the country has been able to create an ideal environment for startups which aim to change the Arab world, one internet user at a time.
This ecosystem of startups, created almost entirely from scratch with the support of King Abdallah II is equally riding the wave of change which has been unleashed in the wake of the Arab Spring.
Nur Alfayez an architect who plays both the violin and the acoustic guitar is part of a new generation of Jordanians upon whom Amman's new business ecosystem rests.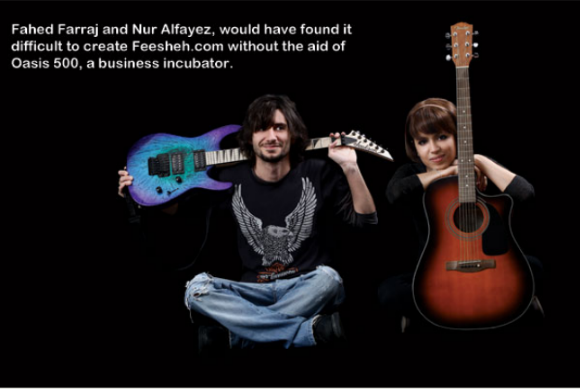 She was inspired to create a website selling musical instruments after observing how difficult it was to obtain them online. She explains: "In the countries of the Gulf, particularly in Iran and Saudi Arabia, many people enjoy expressing themselves through music; however, western musical instruments are not easily accessible. It is an issue we hope to be able to remedy through our website."
Although the 28 year-old has no shortage of ideas or vision, it would have however been difficult for her to create Feesheh.com without the aid of the business incubator, Oasis500, where she was admitted with her business partner, Fahed Farraj, a keen guitarist.
Like other e-commerce websites initiated by Oasis500, Feesheh.com makes use of ShopGo, a platform created by Mohanad Ghashim a Syrian forced to build a new life from scratch having fled from his country of origin in 2011. He is also another alumnus of the business incubator.
Like Feesheh.com, most startup businesses in Amman are websites which have been set up in the aim of targeting consumers in the Arab world with the majority among them being online shops and digital media sites.
Jamalon, the most important online library in the region, is also based at Amman. The web portal, Maktoob is another Jordanian business which has enjoyed great success, subsequently being purchased at 164 million US dollars by Yahoo in 2009. This particular transaction can also be credited with having played a key role in Amman's transformation into an up and coming technological business centre.
The Jordanian Miracle: A Royal Solution.
"It all started with a very unusual meeting with the king", recalls Usama Fayyad who following Maktoob's purchase, was invited along with ten other Jordanians, to a meeting with King Abdallah II in the aim of drawing up a plan that would enable them to duplicate success stories similar to Maktoob's. A meeting which resulted in the creation of Oasis500 of which Usama Fayyad is currently the Chairman.
This initiative launched by the king (who happens to be a fan of Star Trek) was a part of his attempts to modernize the Jordanian economy. One of the first steps he took following his accession to the throne in 1999, was the establishing of a nationwide initiative named REACH in the aim of promoting growth in the nation's IT sector through training, infrastructure and regulatory measures.
An additional measure was the privatization of the monopoly Jordan Telecommunications in 2000 in order to promote free competition within the sector and to lower prices. The nation's educational system was also reformed with English and Introductory IT Studies being made obligatory at primary school level. Computer courses were equally prioritized at university level with Computer Science programmes currently being offered in 31 of the nation's 33 universities (in a country with a population less than that of Quebec.)
Since the launch of the initiative, the IT sector has experienced an average annual growth of 25%, i.e. 14% of Jordan's gross domestic products, compared to just 2% in 2000, with the country's total GDP being measured at 6 000 US dollars per inhabitant.
The informal committee created by the king would subsequently reconvene on several occasions. Usama Fayyad explains, "One of the rules was that there be no government involvement whatsoever." He also claims that the king wished to accelerate the process. The members of the group were in fact selected from the private sector for the most part. As for Usama Fayyad, he had just returned to Jordan after a successful career in the United States. Educated to doctorate level in Computer Science, he had been employed by NASA, Microsoft and Yahoo where he served as executive VP and chief data officer from 2004 to 2008.
The first observation of the informal committee was that there was a lack of funding. It however became apparent that the creation of a special trust fund would be far from sufficient. Even if Jordan had an abundance of skilful engineers, few among them possessed the know-how required to establish a startup company. They were also convinced it was necessary to establish a business incubator inspired by Mountain View's Y Combinator, in California albeit with a few adjustments. Unlike Western business incubators which require applications to be made by email, entrepreneurs who wish to join Oasis500 must participate in its boot camps.
Usama Fayyad explains, "This stage would be unnecessary in the United States but here we need to explain the basics: How to make a presentation to investors, how to present financial statements, the expectations of an investor regarding venture capital." Once the selection process has been completed an investment capital of 30,000 US dollars is given to each business owner selected in exchange for 20% of shares. In comparison, the Montreal based business incubator FounderFuel offers 50,000 Canadian dollars in exchange for a 9% share value.
"During discussions held with the king, I insisted it was necessary to change the culture of the country since more than half of the population works for the government. The king asked me what I meant and I replied that it was necessary to be able to catch people's attention by financing a great number of businesses. He asked me how many. I responded: At which he exclaimed, '500! That's a good idea.'"
Oasis500 was created and set in motion courtesy of a great response and investments from private investors. Indeed their response has been so favourable that the business incubator currently possesses a capital of 7 million US dollars.


More and more venture capitalists
What began as a simple question asked by the king has in a manner of speaking, now become a social and economical project in the nation with numerous business men becoming involved. Several have succumbed to the charms of venture capital: Oasis500 possesses a network of no less than 500 investors most of whom come from Jordan and the countries of the Gulf.
"With the Arab Spring, it can be observed that Arab capital is being invested in the Arab world in ever increasing amounts." explains Fadi Ghandour whose company Aramex – one of Fedex's competitors – has made him a fortune. Based at Amman, it is also a Nasdaq listed company. The businessman who has notably invested in Oasis500, is far from being a novice when it comes to venture capital, with Maktoob being his first investment.
Rami Al Karmi, who began his entrepreneurial career building custom computers while studying to become an electrical engineer, is part of a wave of Jordanian investors in venture capital who burst on the scene after 2009. After having sold his IT services company, he enrolled on a venture capital programme at Berkeley in 2010, following which he joined N2V a Saudi technological holding company for which he develops Jordanian entrepreneurs under the auspices of N2V Labs.
"We have created what I would call a risk free accelerator where we invite entrepreneurs to join us", explains the businessman. "They are paid a salary and are given the opportunity to gain experience. In the event of initiating their startup, they receive up to 50 % of shares in the new company. "
Nidal Eses has chosen to contribute to the community by founding the first co-working space in Amman which resumed business operations in December 2012. Although he possesses assets on various continents, he spends a great deal of his time at ZeeLaunchPad, where his office is based. To date it has 29 members and is able to support about a hundred. He is however in no hurry, explaining, "My aim is to build a community with a good mix of talents as opposed to merely creating a rental business."
Changing the culture
According to Nidal Eses, Jordanians are more entrepreneurial than they were a few years ago. "Individuals are now more willing to take risks and to understand that entrepreneurs experience failure." he explains.
Rami Al Karmi, however believes that a significant amount of progress remains to be made in this regard. "Our culture does not accept failure in the same way the United States does. Here, an entrepreneur is regarded by his family as an individual without any gainful employment. My mother still doesn't understand why I don't have a job like everyone else."
This attitude is also reflected in the nation's legislative framework which makes no provision for the individual in the event of bankruptcy. As a result individuals tend to be cautious when applying for personal loans to finance business projects, due to the fact that they risk not only the loss of their property and earnings in the event of insolvency but also a possible prison sentence. Certain sources however assert that banks prefer to avoid having bankrupt clients imprisoned, due to business and image concerns.
Cultural heritage notwithstanding, young Jordanians active within the technology sector have no fear of failure. Thanks to the support of the king, who is a frequent guest at Oasis500's angel investor network events, the business incubator has contributed significantly to the legitimizing of risks, thus fulfilling its most important promise in a manner of speaking. "We hope to achieve our aim of 500 startup companies in six years from now," Usama Fayyad, its chairman states, "however the market could change; I could fail and that's ok."
Women Are No Strangers To Start Ups In the Arab world
While the rarity of women involved in startup businesses is an issue in North America, the reverse is the case in Jordan. No less than 37% of businesses incubated by Oasis500 are led by women. In contrast, only 4% of businesses incubated by the American company, Y Combinator, originally responsible for popularizing the business incubator concept are led by women – a fact which has earned it much criticism.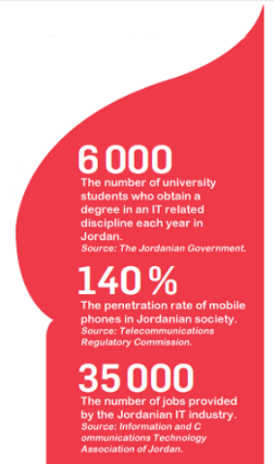 The number of Jordanian women obtaining university degrees currently exceeds that of Jordanian men. Hiba Mansour, CEO of Sajilni.com, an online ticket reservation platform is one of the numerous women who have been able to convince Oasis500 of her entrepreneurial capabilities. The alumnus of the University of California, San Diego, with a degree in Computer Science believes that the importance of traditional roles in society could be favourable to women. "We live in a society in which a man is expected to support his family," she explains. "Although launching a startup is a great risk for men, women hesitate less in taking such a risk due to the fact that having to earn a salary is not a key responsibility for them."
Emancipation
The internet is equally a powerful tool for emancipation for female consumers in the Arab world providing a large number of them with a single free space in which they can express themselves, obtain information and make purchases without having to leave their homes.
For Omar J. Sati, the director general of the Jordanian investment fund, Dash Ventures, the success of women as entrepreneurs in the field of technology could be linked to that of websites which cater to women in the Arab world. "I believe that the only people who can resolve problems which pertain to women are women themselves." He states.
To support his claim, he provides an example of an e-business established in Dubai, named MumzWorld.com and the recipe video site Zaytouneh.com (in which he is an investor).
Author: Liz Kuo