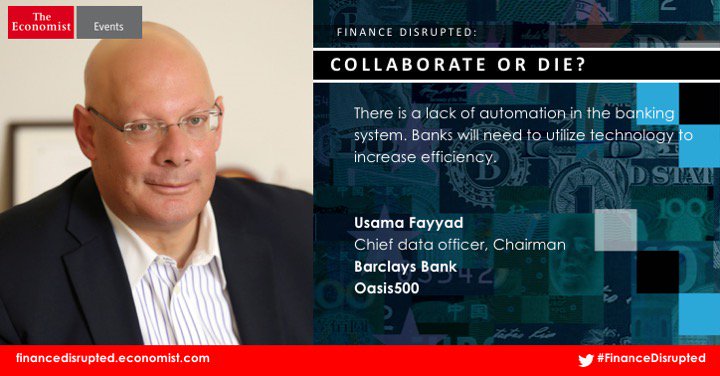 The finance industry is at the start of an unprecedented period of disruption. Established firms and start-ups are both embracing disruptive new technologies, from smartphones to "big data" analytics to Bitcoin and the blockchain that underpins it. This promises big changes to banks, insurers, investment firms and real economy served by the finance sector. Start-ups and incumbents alike increasingly acknowledge that, in many parts of financial services, the 'winners' will be those that collaborate best to create win-win partnerships.
Building on 2015's acclaimed fintech gathering, "The Valley Meets the Street", The Economist Events' 2016 Finance Disrupted conference will bring together today's most disruptive entrepreneurs, policymakers and renowned academics under the chairmanship of our senior Economist editors to explore the big trends in fintech, what the digital revolution means for finance and the broader economy. Attendees will walk away with an insightful overview of the latest important fintech breakthroughs, including mobile payments and robo wealth managers, as well as new business models like distributed ledgers, crowd-funding and social media-based credit- scoring. The event will examine where collaborative strategies are most likely to succeed, provide leading examples of current efforts at collaboration and discuss lessons learned from other industries that have experienced technological disruption.
Key questions we will answer:
What are the latest important fintech breakthroughs?
Can a partnership with an incumbent help a start-up to scale up more quickly to achieve critical mass?
How can start-ups and incumbents overcome their cultural differences to create innovative partnerships that work?
How can industry participants and regulators collaborate to allow maximum experimentation whilst minimizing societal risks?
Which countries are developing the best ecosystems for fintech innovation to thrive?
Click here to download the 2016 brochure or here to sign-up for email updates as additional information is announced.
Questions? Get in touch at event-tickets@economist.com.
Finance Disrupted
Speakers & Agenda
View the full agenda
Click here to view the latest Q&A's with this year's speaker faculty.

Sheila Bair
Former chair, FDIC; Member of the board, Avant

Alexa von Tobel
Founder and chief executive, LearnVest.com

Usama Fayyad
Chief data officer, Barclays Bank; Chairman, Oasis500

Thomas Curry
Comptroller of the currency, US Department of the Treasury

Adam Ludwin
Co-founder and chief executive, Chain

Vikram Pandit
Chairman and chief executive, The Orogen Group and former chief executive, Citigroup Inc.
For information on event speaking opportunities, please email eventspeakers@economist.com.
Finance Disrupted
Why attend?
This event will aim to prepare policymakers, central banks, financial institutions and disruptive entrepreneurs for the digital finance revolution. Attendees will participate in a full day of stimulating, interactive discussion and debate on the impact of disruption on finance and the economy as a whole.
Companies in attendance last year included:
American Express
Bank of America Merrill Lynch
BBVA
BlackRock
Capital One
CircleUp
Citibank
Deutsche Bank
EY
Fidelity Investments
Itau Unibanco
JP Morgan Chase
LearnVest
Macquarie Capital
MasterCard
McKinsey & Company
Morgan Stanley
PwC
The Boston Consulting Group
Verizon
Who should attend:
Chief financial officers
Chief information security officers
Chief technology officers
Chief strategy officers
Heads/directors of banking and financial technology
Heads/directors of strategy and risk
Heads/directors of product and innovation
Heads/directors of technology and IT