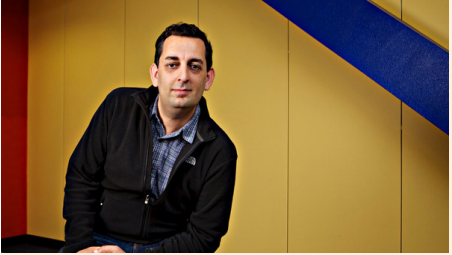 In January, Judy Samakie and her brother Karim took a bus out of war­ravaged Aleppo in Syria to the Lebanese border and trekked 20km through snow to take a flight from Beirut to Amman in Jordan. The aim of the 40­hour odyssey was to join 60 or so others on a week­long course for aspiring entrepreneurs from Jordan and other Arab countries.
The daughter of a family that made yoghurt, margarine and butter, and who had worked in the fast­food industry in Syria, she had an idea for a business. "My background is in French literature, but my passion is food," she says. Her brother wanted to start a delivery business.
The course was organised by Oasis500, a business accelerator based in Amman to nurture entrepreneurial businesses with mentoring, money and networks of contacts. It has been backed by private investors, mostly from Jordan's thriving IT sector, and the technophile King Abdullah. The country is poor in natural resources and facing rising unemployment among young people; but at the same time it has a wealth of IT graduates, and the country's leaders are on a mission to encourage fast­growth start­ups.
The accelerator has trained more than 1,440 entrepreneurs at 24 boot camps, including one in Beirut and two in Ramallah in the Palestinian territories. The participants with the best ideas to emerge in the monthly or so courses then receive seed capital and coaching from business veterans on how to write a business plan, design a website and hone their pitches. Most are digital ventures.
An even smaller number get help in finding angel investors, and further investment from Oasis500 itself. The accelerator has invested $2.4m in 61 companies so far, attracting $8m in follow­on funding, a multiple, its sponsors say, that affirms its existence and attests to the venture's own financial success.
Mr Samakie's idea did not make the cut, but his sister is now busy developing Fresh & More, a business that she describes as "an aggregator for healthy food"; it digitally collects and publishes information and nutritional analyses on menu items at popular Amman restaurants.
The metaphor in Oasis500's name of green shoots rising from the desert is an apt one for the country, which is teeming with refugees, and whose mainstream businesses are struggling with slowing economic growth and rising energy prices.
The fact that it has one of the world's highest ratios of IT graduates, who have over the past decade developed the Middle East's biggest IT sector in proportion to the rest of the economy, is thanks to the concerted efforts of government policy makers and King Abdullah in promoting a business­friendly environment.
Building on IT niches such as ecommerce and the Arabisation of online content, the sector has grown from businesses with turnover totalling $500m and about 10,000 employees in 2000 to about $2.3bn total turnover and 80,000 employees now. IT contributes 14 per cent to gross domestic product directly  and indirectly, up from 3 per cent in 2000.
"This is the first time in the Middle East that the private sector 'owned' a process and worked with the government to deliver," says Marwan Juma, entrepreneur and former telecoms minister, who helped engineer the country's push into IT and digital businesses.
Jordan's IT sector experienced its first big exit in 2009, when Yahoo bought Maktoob, the first big Arab-language internet portal, for a reported $164m. Along with national pride, the deal prompted reflection in the royal court. The king convened a kitchen cabinet of advisers to examine why the country was not seeing more such big exits from successful IT companies and the discussion identified a gap in seed funding and angel investing, which led to the foundation of Oasis500.
On a Sunday afternoon at Oasis500's offices in a smart Amman business park some of the fledgling chief executives are arriving for a long working day; they tend to keep the same hours as other aspiring tech entrepreneurs in places such as Silicon Valley. The office walls are adorned with Arab proverbs to motivate the entrepreneurs, such as from Ali bin Abi Talib, the Caliph and cousin of the Prophet Mohammed: "Do not raise your children the way your parents raised you; they were born for a different time", or from the Koran: "God does not change what has befallen a people until they change their own selves."
One role of Oasis500 is to help change the mindset of its fledglings, including acceptance of failure. "You'll never learn to ride a bicycle if you don't fall off a few times," says executive chairman Usama Fayyad, speaking in one of the Oasis500 meeting rooms. A successful Jordanian­American entrepreneur, he made his name in Silicon Valley in roles at companies including Microsoft and Yahoo, where he worked as chief data officer, and at start­ups he founded himself. "The other thing we have to change is the work ethic and the whole notion of the value of time."
Among the young businesses incubating under Oasis500's roof is Gallery Alsharq, which sells quality stock photography online from across the Middle East. "It's really hard in this region raising funds between $100,000 and $1m," says Riham Mahafzah, Gallery Alsharq's founder and CEO. "That's where Oasis plays a role."
Others at Oasis500 include Feesheh – which translates as Plug – the Middle East's first online store selling musical instruments; Masmoo (Heard), a producer of Arabic­language audiobooks, and Cheezu, which produces software for making photobooks.
Doaa al Sheikh, founder of Hijabik, echoes Mr Fayyad on mindset: "They made us focus, focus, focus – that's more important than the idea," she says. She is developing an online store selling stylish hijabs.
The idea came "from my pain" when shopping for Islamic head coverings that were both fashionable and affordable, she says. It was while developing the idea with mentors and advisers at Oasis500 that she decided not to have the garments manufactured locally in Jordan but to import them from Malaysia to take advantage of lower costs and favourable exchange rates.
Even so, back at the accelerator's offices, Ghaith Kawar, founder and CEO of Cheezu, explains that ambition to set up a company is not yet widespread among young people in Jordan: "This is my eighth start­up, and everyone looks at me like I'm a crazy guy: 'Just go get a job at the telecoms company.
What's wrong with you?' they say."
Ala Suleiman, CEO of Masmoo, adds that even in Jordan, "starting a business is usually accompanied by having a wealthy family or royal relatives or titles. This is how we have been raised."
Author: John Reed