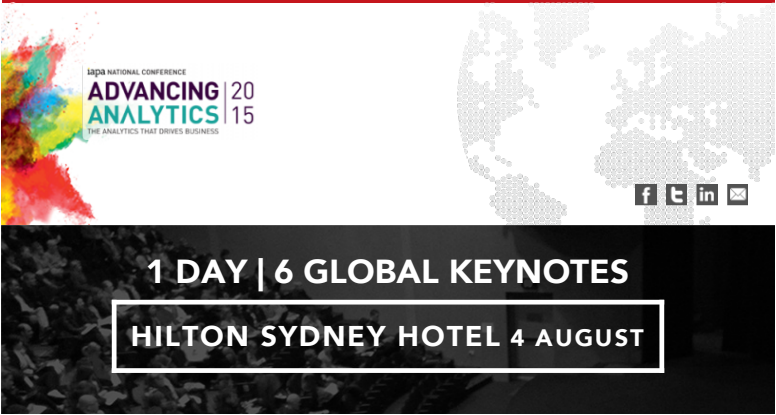 The Advancing Analytics IAPA National Conference 2015 is the one-day conference that delivers global ideas for driving business forward through data and analytics.
FEATURED SPEAKERS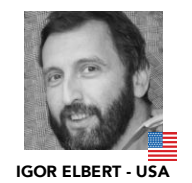 Principle Data Scientist, Gilt.com
Project Leader, CERN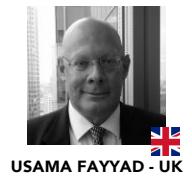 Chief Data Scientist, Barclays Bank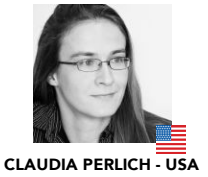 Chief Scientist, Ds tillary
SPEAKERS

ARKADY ZASLAVSKY,
AUS. Senior Principal Research Scientist, CSIRO

BOB JONES, CH. Project Leader, CERN

CLAUDIA PERLICH, USA. Chief Scientist, Dstillery

DR LEIF EVENSEN. General Manager Business Performance Analytics, Westpac

IGOR ELBERT, USA. Principal Data Scientist, Gilt.com

JULIE BATCH. Chief Analytics Officer, IAG

KEVIN ROSS. Chief Scientist of Optimisation Modelling, Fonterra

LIZ MOORE, AUS. Head of Research, Insights and Analytics, Telstra

STEPHEN PULMAN, Professor of Computational Linguistics, Oxford University

USAMA FAYYAD, UK. Chief Data Scientist, Barclays Bank
Usama M. Fayyad, Ph.D. is Chief Data Officer at Barclays. He is responsible for the governance, performance and management of our operational and analytical data, as well as delivering value by using data to create opportunities for the business.
Until recently, he was Chairman, Co-Founder and Chief Technology Officer of ChoozOn Corporation/ Blue Kangaroo, a mobile and web search engine service. He has also been leading the OASIS-500, a tech startup investment fund, following his appointment as Executive Chairman in 2010 by King Abdullah II of Jordan.
In 2008, Usama founded Open Insights, LLC, a US-based data strategy, technology and consulting firm that helps enterprises deploy data-driven solutions that effectively and dramatically grow revenue and competitive advantage. Prior to this, he served as Yahoo!'s Chief Data Officer and Executive VP where he was responsible for Yahoo!'s global data strategy, architecting its data policies and systems, prioritising data investments, and managing its data analytics and data processing infrastructure. The data teams he built at Yahoo! collected, managed, and processed over 25 terabytes of data per day, and drove a major part of ad targeting revenue and data insights businesses globally. In 2003 Usama co-founded and led the DMX Group, a data mining and data strategy consulting and
technology company specialising in Big Data Analytics major projects with Fortune 500 clients. DMX Group was acquired by Yahoo! in 2004. Prior to 2003, he co-founded and served as CEO of Audience Science. He also has experience at Microsoft and headed the data mining products group. From 1989 to 1996 Usama held a leadership role at NASA's Jet Propulsion Laboratory. Usama has published over 100 technical articles on data mining, Artificial Intelligence, machine learning, and databases. He holds over 30 patents, is a Fellow of the Association for Advancement of Artificial Intelligence (AAAI) and a Fellow of the Association of Computing Machinery (ACM). He has edited two books on data mining and served as editor-in-chief on two key industry publications. Usama earned his Ph.D. in engineering from the University of Michigan, Ann Arbor.
AGENDA
9.00 – 9.15 CONFERENCE WELCOME

JODIE SANGSTER Chief Executive Officer, ADMA/IAPA
EVAN STUBBS Chief Analytics Officer, SAS
9.15 – 10.00 Massive datasets and huge-scale analytics: How CERN delivers insights that matter 

BOB JONES
European Project Leader, CERN
10.00 –10.45 Providing insight into the evolving market of advanced analytics
USAMA FAYYAD


Chief Data Scientist, Barclays
10.45 – 11.15 Morning Tea – Level 3, Innovation Zone
11.15 – 12.00 Sentiment analytics revelations: Detecting emotions in your textual customer data
STEPHEN GUY PULMAN

Oxford University; Co-founder, TheySay
12.00 – 12.40 Analytics at the edge – the effects of the Internet of Things (IoT) data explosion
ARKADY ZASLAVSKY 


Senior Principal Research Scientist, CSIRO
12.40 – 13.40 Lunch – Level 3, Innovation Zone
13.40 – 14.25 Analytics as the great enabler: How giving life to data powers 'Dairy for Life'
KEVIN ROSS


Chief Scientist, Optimisation Modelling, Fonterra
14.25 – 15.05 What makes the best analytics team?
DR LEIF EVENSEN


General Manager Business Performance Analytics, Westpac
JULIE BATCH
Chief Analytics Officer, IAG
LIZ MOORE
Head of Research, Insights & Analytics, Telstra
15.05 – 15.35 Afternoon Tea – Level 3, Innovation Zone
15.35 – 16.20 Utilising machine learning for smart, targeted advertising
CLAUDIA PERLICH 

Chief Scientist, Dstillery
16.20 – 17.05 Locknote: Pre-emptive shipping: Using analytics to predict product performance
IGOR ELBERT 

Chief Data Scientist, gilt.com
17.05 – 17.15 CONFERENCE CLOSE
17.15 – 18.15 IVE Networking Drinks – Level 4, Zeta Bar