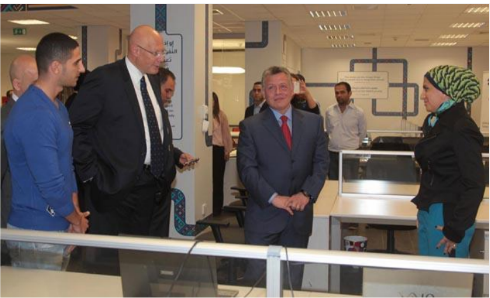 AMMAN — The innovative ideas of young entrepreneurs give hope of a bright future for the Kingdom, and their talents must be invested in, His Majesty King Abdullah said on Sunday.
The King also stressed the importance of the ICT sector for the Kingdom as he voiced his pride in young Jordanian businesspeople.
He made the remarks at the inauguration ceremony of the National Accelerator of Jordan's Entrepreneurial e-Mpowerment, which is affiliated with Oasis500, a fund that helps train, mentor and invest in start-ups and entrepreneurs.
The centre's main partners and supporters are the King Abdullah II Fund for Development and Zain Jordan.
The King stressed the need to support incubators that help fund entrepreneurs and turn their ideas into businesses, noting that entrepreneurs in the country have plenty of talent that needs attention and proper investment.
He voiced his pride in talented Jordanian entrepreneurs working in the field of ICT and digital content, highlighting public-private partnerships in the field of ICT as a model.
His Majesty also toured the facility and was briefed on several start-ups benefiting from Oasis500.
During the opening ceremony, Usama Fayyad, Oasis500 executive chairman, said the accelerator is a gift from His Majesty for Jordanian entrepreneurs in the ICT sector.
Oasis500, which has been operating for about two years, has succeeded in raising about JD4.2 million in funds to implement its programme so far.
The organisation, he said, has trained more than 750 entrepreneurs, adding that the demand for training by entrepreneurs is huge.
He added that Oasis500 invested in 54 companies, noting that about 41 per cent of the start-ups it trained and invested in are in the field of digital content, 40 per cent in the field of e-commerce and the rest is in the field of software and hardware.
Fayyad, who cited a report by Bloomberg News saying that Amman ranked in 2011 as the 10th best place to start a technology company in the world, underlined the importance of supporting entrepreneurs.
Also Sunday, the Monarch met with a delegation of representatives from the Partners for a New Beginning (PNB), which was launched by US Secretary of State Hillary Clinton in 2010.
PNB is a network working in 10 countries where local projects and priorities are identified by local chapters. As of September 2011, PNB chapters have been launched in Algeria, Egypt, Indonesia, Morocco, Pakistan, Tunisia, Turkey, Jordan, Mauritania and the Palestinian territories.
Each local chapter is responsible for identifying country-specific priorities and gaps, projects that address these gaps, and working with local and American partners to implement these projects.
In remarks to the press Sunday, Minister of Industry and Trade and Minister of ICT Hatem Halawani stressed the key role the fund plays in supporting entrepreneurship.
He added that it has a major role in connecting entrepreneurs with potential investors and helping them grow their businesses.
Entrepreneurs who wish to benefit from Oasis500's programme may submit applications and, if accepted, begin the programme by receiving training on the behavioural competencies of successful entrepreneurs, how to build a business model and how to market their plans to turn them into businesses.
Those who excel in the training programme and have investment-ready ideas immediately proceed to the first round, receiving JD10,000 in seed funding and being incubated at the Oasis500 offices at the King Hussein Business Park, according to the programme's website.
They are also provided with workspace during the three-month incubation period, in addition to Internet access and mentorship.
After the completion of the first round, participants are short-listed to compete in the second round, with those selected receiving JD50,000 to develop their businesses, as well as legal advice and mentoring during a three-month incubation at the Oasis500 offices.
They also have the chance to network with successful businesspeople.
After entrepreneurs complete the second round, Oasis500 helps them gain access to angel funding.
An angel investor is an affluent individual who provides capital for business start-ups, usually in exchange for convertible debt or ownership equity, according to web sources.
Founded by local venture capital firms, technology companies and angel investors, Oasis500 launched its operations in August 2010 by announcing that it was accepting applications for its entrepreneurship programme with the goal of helping fund 500 ideas from the Middle East and North Africa by the year 2015.
Author: Mohammad Ghazal