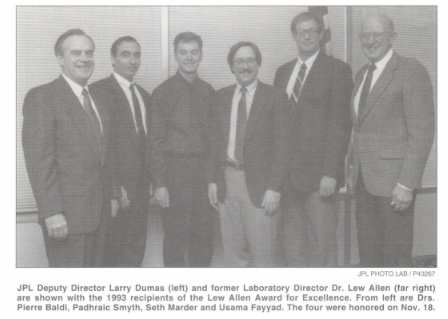 Dr. Pierre Baldi, Usama Fayyad, Seth Marder and Padhraic Smyth received the 1993 Lew Allen Award for Excellence in a Nov, 18 ceremony.
Baldi, from the Robotic Systems and Advanced Computer Technology Section 347, received the award in recognition for his scientific contributions to the theory and applications of artificial neural systems, a new and highly competitive technology area.
Fayyad, from the Advanced Information System Section 366, was honored for pioneering work in machine learning and advanced software technology to support the development of scientific-trainable automated image analysis systems.
Marder, from the Space Materials Science and Engineering Section 355, was recognized for contributions to the science of organic materials for nonlinear optics. He was also honored for his efforts to disseminate the results of his work to he community and to motivate and train students in the art of the conducting research.
Smyth, from the Communications System Research Section 331, received the award for contributions in the field of pattern recognition, learning and classification for the analysis of planetary images, allowing automated searching of large-image databases to find desired features.
The award consists of a wall plaque and a grant of $25,000 from the Director's Discretionary Fund, to be used at JPL to enhance the professional efforts to the awardees.
The award was established in 1990 in honor of Allen, who served as JPL's director from 1982-90. Its purpose is to encourage significant individual accomplishments or leadership in scientific research or technological innovation by JPL employees early in their careers.
Source: Jet Propulsion Laboratory Universe Vol. 23 No. 24