Every startup founder & developer should have electricity. Your help will keep us online evenings and weekends, doubling our productivity.
https://www.youtube.com/watch?v=eEJtZekhROE#action=share
Story
Our campaign was extended + match pool increased! FINAL chance to help us launch Gaza's first coding academy. Only $30.6K left to go!
Support from match donors like these is a once-in-a-lifetime opportunity for Gaza's tech sector. Help us make the most of it.
Tech leaders from around the world have united to #PowerUpGazaGeeks:
Marc Benioff
DASH Ventures
Paul Graham
Fadi Ghandour
Gisel Kordestani
Christopher Schroeder
Wojciech Burkot
Obi Felten
Zubair Khan
Bank of Palestine
Arab Palestinian Investment Company
Skoll Foundation
Brad Feld
Badr Jafar
Zohre Elahian
Freada Kapor Klein
Mitch Kapor
Dave McClure
Eric Ries
Samih Toukan
Zahi Khouri
Blaise Agüera y Arcas
Hala Fadel
Usama Fayyad
Linda Mason
Khailee Ng
And more
Every dollar you give will be matched (max $147k)
Your support for Gaza's pioneering geeks IS PHENOMENAL! We've almost raised enough to launch the coding academy. On top of that, new supporters reached out to offer to match donations!
The campaign is being extended by 2 more weeks to harness your support and reach the goal. Let's launch Gaza's first coding academy!
This is a hugely important investment that will empower us to fuel our own futures. Our match donors are waiting to see what we can achieve. Let's do it. Please tell all your friends to donate now + get matched!
Gaza Sky Geeks is a leading frontier market tech hub
We enable Gaza's most talented youth to earn an income through the power of the internet. We aim to turn Gaza – one of the toughest places in the world – into an internationally competitive tech hub.
WHY LAUNCH A CODING ACADEMY
Launching a coding bootcamp will deepen existing developer talent, grow a pipeline of new talent, and inspire more Gazans to learn to code.
Gaza's geeks are isolated. Gaza has a pool of passionate, skilled developers working in outsourcing, freelancing, and startups. But after more than a decade of isolation, we have few full-stack developers in Gaza who are fully up to date the latest engineering trends. Even in the tech sector, knowledge transfers best through in-person communities – not the internet alone.
The whole world is thirsty for more tech talent. With Gaza's tech sector picking up pace – and the global tech sector hungry for talent – now is the time to grow the number of people studying coding. We'll connect these new developers to jobs in Gaza with our startups or local tech companies, as well as remote/freelancing/outsourcing jobs.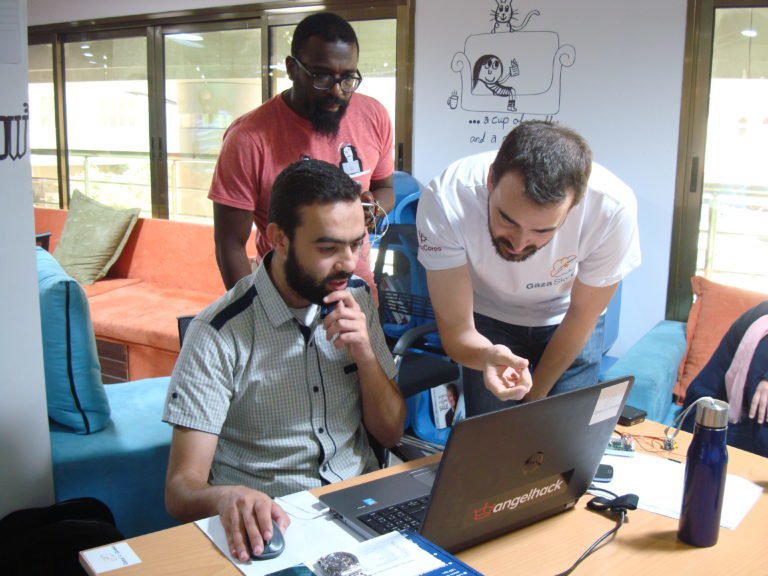 A coding curriculum would bring the latest trends in software development to Gaza. We would recruit staff trained abroad to teach a full stack, cloud technologies, and DevOps / continuous deployment. We'd also teach the management skills and culture that are critical to shipping software products.
Our academy would inspire more Gazans to learn to code. Establishing a coding bootcamp would evangelize the field of software engineering at a larger level. Even Gazans not attending the academy would be inspired to study engineering in college or teach themselves to code. Gazan parents are unaware of startups and the tech industry. They often discourage their children from studying software engineering in school. The presence of a coding academy would change that.
Our academy would become self-sustainable. $175K could cover startup, program, and operations costs for our first cohort of 25 students. We'll experiment with a tuition recovery model: graduates will pay back their tuition after they get paid employment.
What your donation can do
Your donation could provide:
$1000 = 1 WEEK coding bootcamp for 1 student
$500 = 1⁄2 WEEK coding bootcamp for 1 student
$250 = 1 DAY coding bootcamp for 1 student
$50 = 1⁄2 DAY coding bootcamp for 1 student
Note: The full $175K cost of launching a coding academy includes overhead. Startups and their supporting organizations need to be nimble and pivot according to opportunities, challenges, and lessons they learn on an ongoing basis. In addition, Gaza is a quickly- changing environment. The costs and goals we've described reflect our plans given our experience to-date and our upcoming goals. Your donation will empower us to build Gaza's tech sector; we reserve the right to adjust the specific use as needed to ensure that your donation has the biggest impact possible.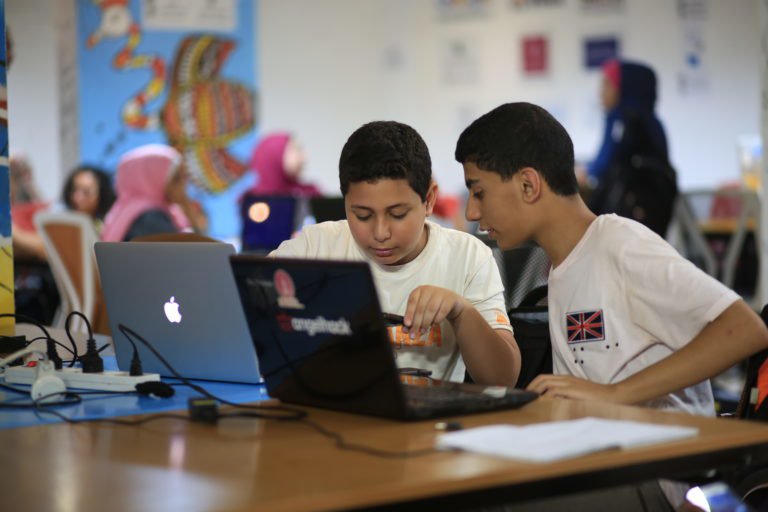 YOU HELPED US GET A GENERATOR & double our co- working space hours!
Gaza is currently going through a major fuel and electricity crisis. On average we now receive four non-consecutive hours of electricity per day, some of our neighborhoods only get one hour. (We used to get eight-hour cycles) In a crunch, we charge our phones and laptops with car batteries, but such methods are unreliable and not scalable and the problem is chronic. So that startup founders and freelancers can compete at an international level, we need to reliably power up our laptops and mobile phones and access internet and light for at least 12 hours each day, every day of the week.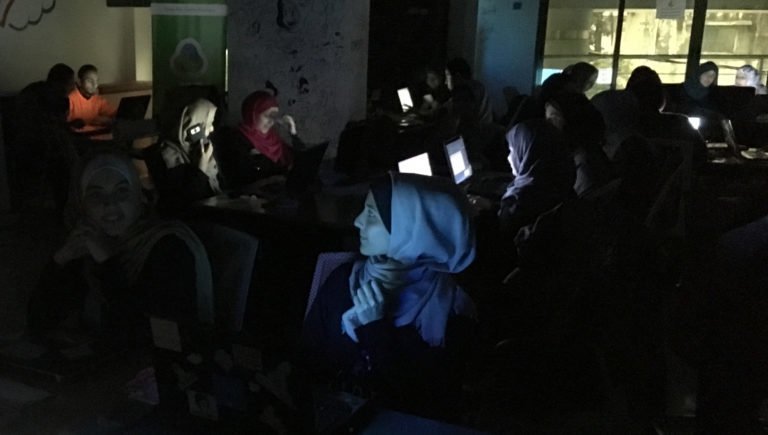 At Gaza Sky Geeks, we have a co-working space that hosts startup founders and freelancers under one roof to share ideas, build companies, code, and geek out! Our generator supplies reliable electricity so that our community can access the internet.
But we close evenings and weekends because we cannot afford to fuel the generator or staff the space. We also lack the generator capacity needed to run heaters in the winter and air conditioners in the summer.
Our geeks want to work longer hours to build globally competitive businesses. That means buying the fuel and generator we need to operate a safe and comfortable co-working space that stays open evenings and weekends. Thanks to you, we can now do that!
With $95k we can now procure a generator, fuel, and staff to double our co-working space open hours for the next three years:
$24k – Generator purchase & maintenance ($12k generator + $4k/year maintenance)
$40k – Fuel to extend our hours to include evenings & weekends ($13k/year)
$45k – Staff to extend our hours to include evenings & weekends ($15k/year)
Thank you for your help to #PowerUpGazaGeeks!
Note: The amounts above include overhead costs. The costs and goals we've described reflect our plans given our experience to-date and our upcoming goals. Your donation will empower us to build Gaza's tech sector; we reserve the right to adjust the specific use as needed to ensure that your donation has the biggest impact possible.
We're harnessing the internet to build a bright future
We live in isolation and instability. Gaza's borders are closed, unemployment is at a record high, and because of the current electricity crisis, we only get four hours of power per day. Instability is always a possibility due to the region's politics. There have been three devastating conflicts in the past seven years.
The internet gives us the opportunity to join the global digital economy. The growing tech sector is a bright spot in Gaza. Startup founders, outsourcing companies, and freelancers are building enterprises that service external markets. They are creating high paying in-demand jobs that are less affected by local instability and border restrictions.
In addition to creating jobs, we are growing Gaza's future leaders. We provide the infrastructure, training, networks, and funding that these pioneering developers need to succeed. On top of that, we nurture a supportive community of innovators and entrepreneurs whose optimism is infectious. It is this vibrant community that inspires new founders and gives existing ones the resilience to carry forward.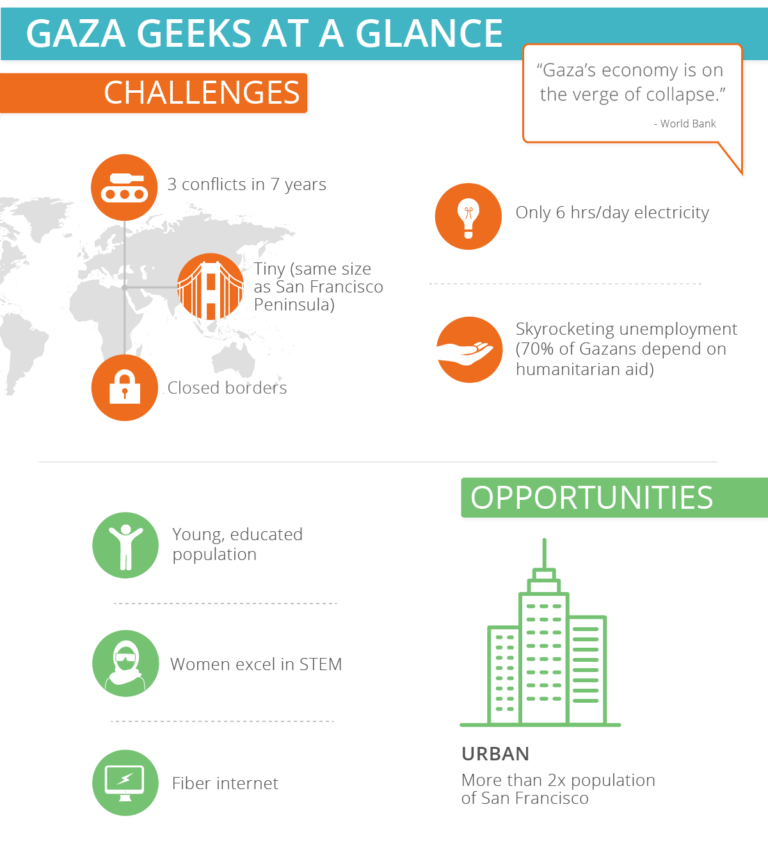 Tech connects the world. Startups, outsourcing, and freelancing are inherently global. Our geeks are hungry to engage with their peers and role models around the globe. This is most powerful when it happens offline as well as online – which is why we bring international mentors to Gaza and take our startup founders on trips abroad too.
An inspiring tech hub beating the odds
Gaza Sky Geeks is one of the top startup incubators and tech education hubs in a frontier market. Founded with seed funding from Google.org in 2011, we are a part of Mercy Corps, a trusted steward of funds from a variety of international donors. We are one of only two Google for Entrepreneurs partners in the Middle East. In 2016, we were honored to receive Google for Entrepreneurs' annual citizenship award, voted by the partner network – over 50 tech hubs and entrepreneurship support organizations around the world – for "pursuing an audacious path, truly excelling in supporting and empowering entrepreneurs to build amazing things."
Our crowdfunding campaign two years ago saved Gaza Sky Geeks. Since then, we have not only delivered on our commitments – we've surpassed them.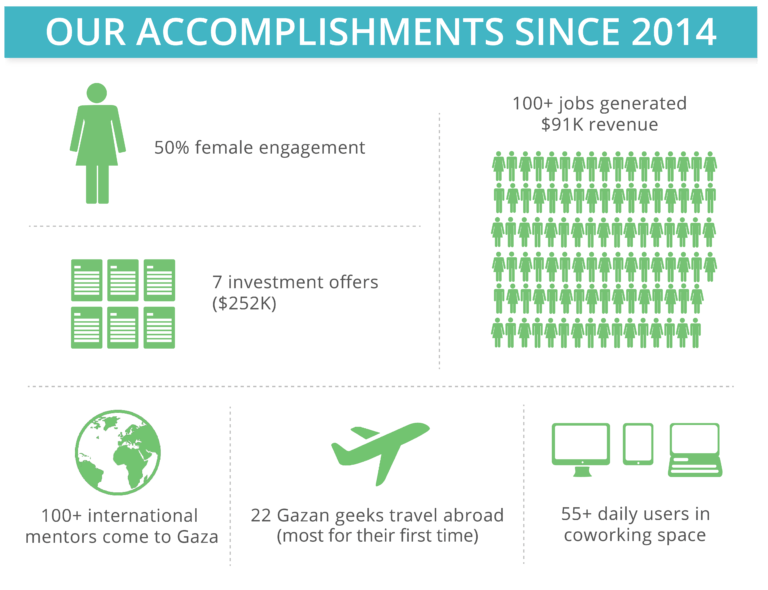 Read more about our achievements from the past two years.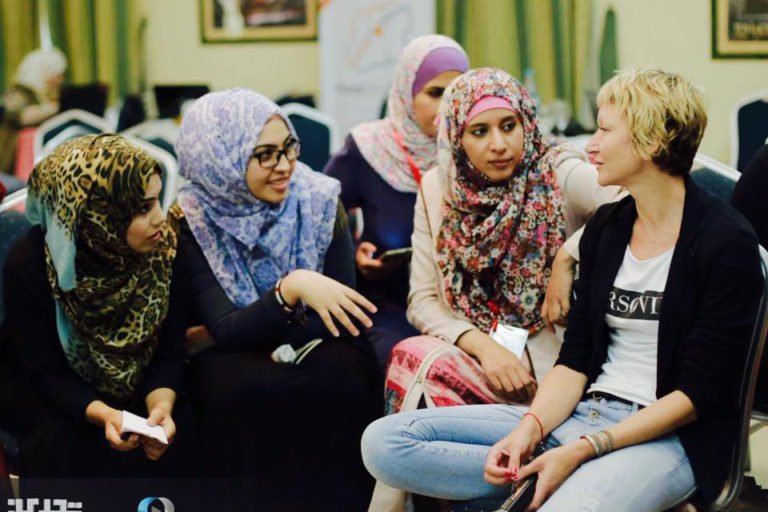 Testimonials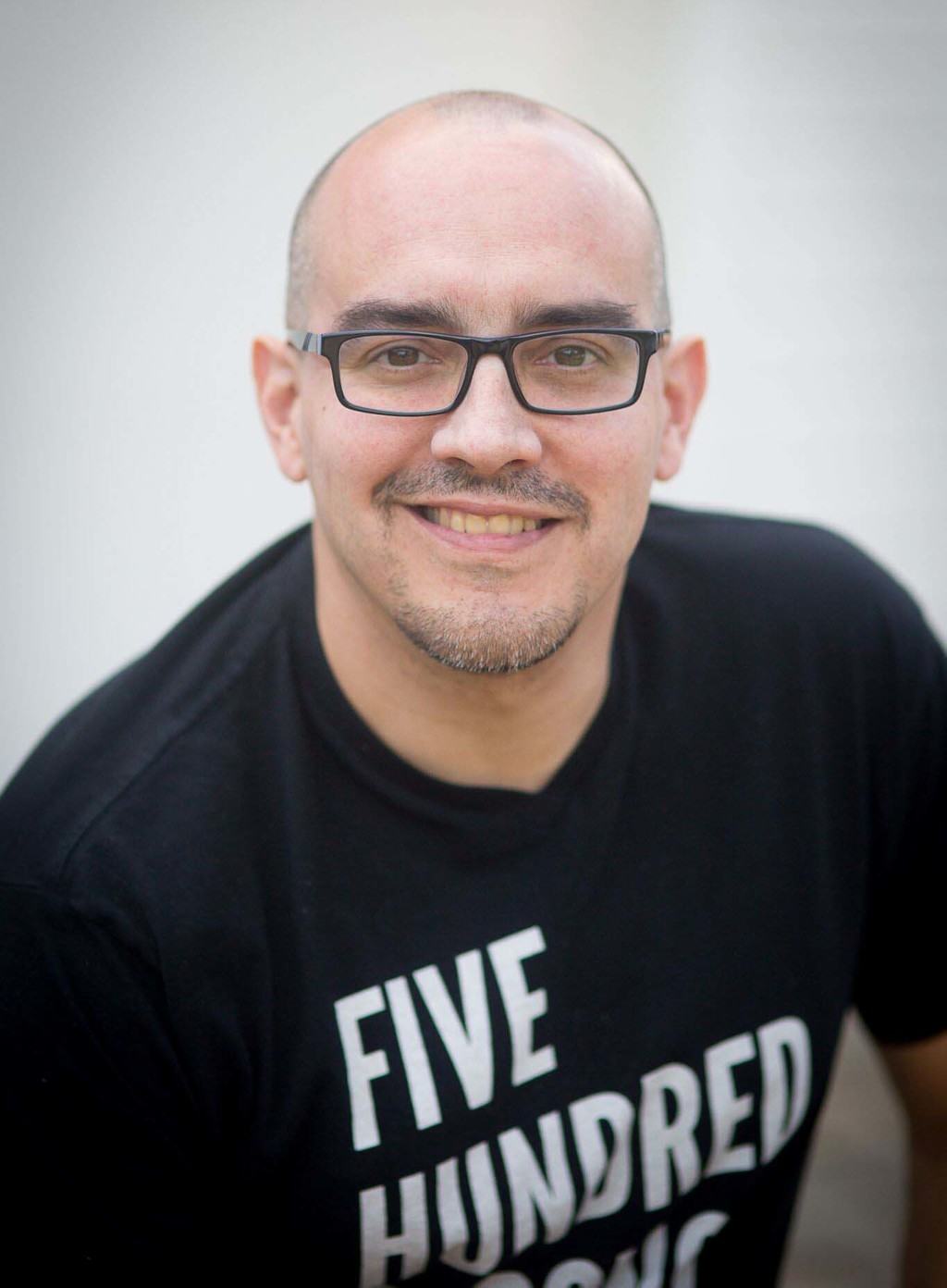 " No entrepreneur should have to work in the dark. No entrepreneur should have to work without electricity. Startups are electric. Help them get some electricity in Gaza!"
Dave McClure
Founding Partner, 500 Startups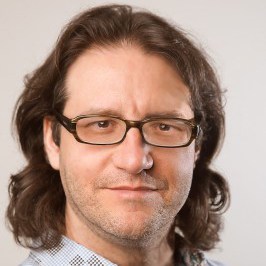 " Techstars Foundation – which is focused on diversity in entrepreneurship – chose Gaza Sky Geeks as one of our first partners out of 100+ of applications because they're truly pioneers in this area!"
Brad Feld
Managing Director, Foundry Group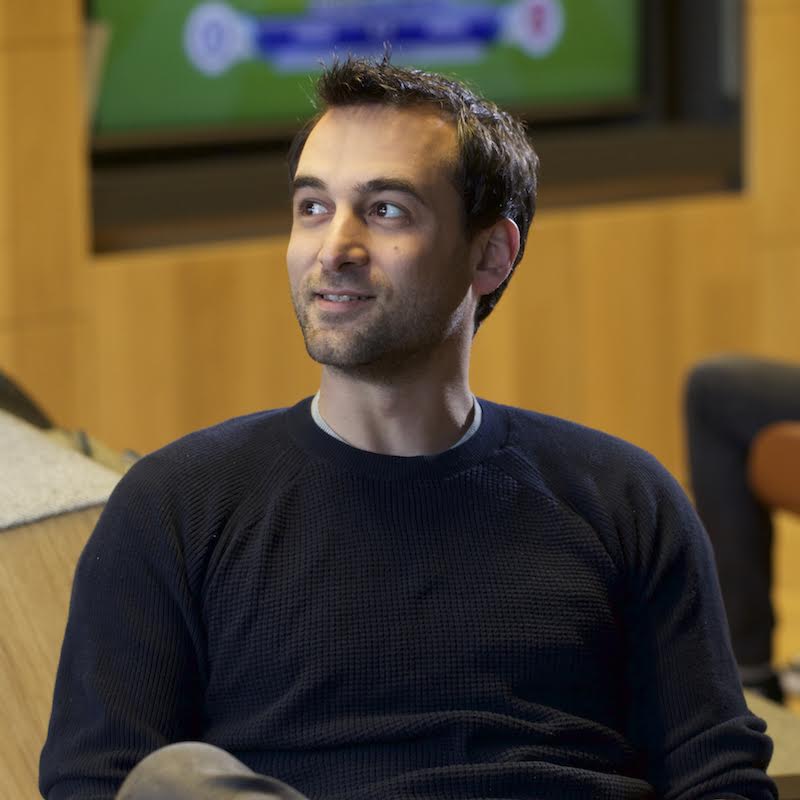 " Gaza Sky Geeks is not only launching sustainable businesses – it's truly changing lives."
Mustafa Sezgin
Head of Engineering, Amsterdam, Uber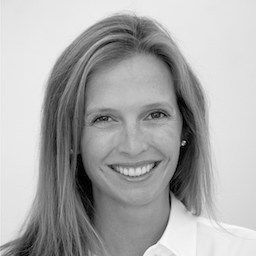 " Gaza Sky Geeks is one of the most important things happening in Gaza today. They support entrepreneurship, develop jobs, and inspire people."
Gisel Kordestani
Co-founder and COO of Crowdpac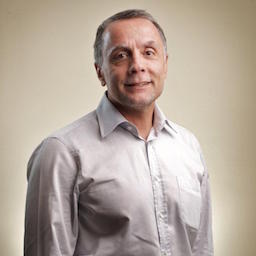 " Gazans are known in the region for their tech skills and resilience. I wouldn't be surprised if the next big success comes from Gaza."
Fadi Ghandour
Founder and Vice Chairman of Aramex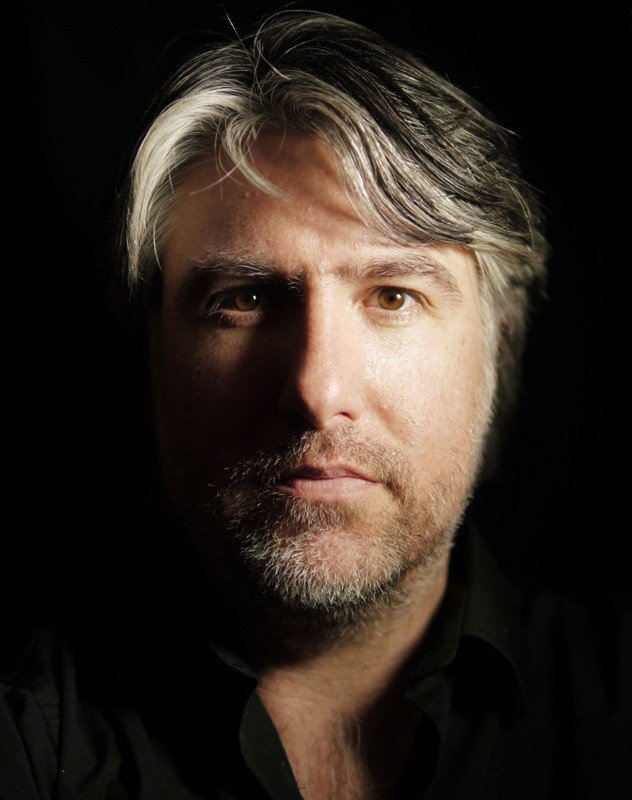 " I loved my trip to Gaza. Exchanging ideas with the passionate, intelligent entrepreneurs was such a joy!"
Kevin Abosch
Visual artist
Our Partners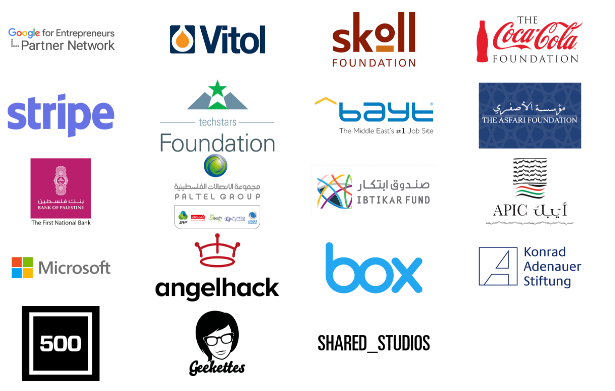 Our partners and individual donors are a key part of our success. Since 2014, we've aligned partnerships with Google for Entrepreneurs, Microsoft, Techstars Foundation, Vitol Foundation, Skoll Foundation, PalTel Foundation, Bank of Palestine, Bayt.com, Asfari Foundation, and others. Combined, these have provided us with nearly 50% of the budget we need – a strong foundation. They have also served as advisers, continuously helping us strengthen our strategy.
Generous supporters have rallied to match your donations now:
Marc Benioff: Founder, Chairman, and CEO, Salesforce
Skoll Foundation
Brad Feld: Managing Director, Foundry Group
Paul Graham: Co-Founder, Y Combinator
Eric Ries: Entrepreneur, blogger, and author of The Lean Startup
Dave McClure: Founding Partner, 500 Startups
Fadi Ghandour: Co-Founder, Aramex
Badr Jafar: CEO, Crescent Enterprises
Hala Fadel: Partner, Leap Ventures
Jon Bradford: Co-Founder of F6S and Tech.eu
Freada Kapor Klein: Partner, Kapor Capital
Mitch Kapor: Partner, Kapor Capital
Zahi Khouri: Founder, Chairman, and CEO – National Beverage Company – Coca Cola
Palestine
Samih Toukan: Chairman of Jabbar, Co-Founder of Maktoob and Souq
Blaise Aguera y Arcas: Principal scientist, Google
Mustafa Sezgin: Head of Engineering in Amsterdam, Uber
Khailee Ng: Managing Partner, 500 Startups
Jenny Lawton: COO, Techstars
David Cohen: Co-Founder, Techstars
And more…
WE NEED YOU
We need to move fast. We just began incubating this year's cohort of startups. For these teams to secure investments in 2017, they need to be able to access electricity on nights and weekends as soon as possible. Our growing community of freelancers and outsourcers also need to work longer hours to deliver on their client contracts even as Gaza faces the biggest energy crunch in recent history. Please help power up our geeks so they can compete at a global level!
To build a true tech sector in Gaza, we need to build a movement through supporters like you from around the globe. This is a long-term mission that will take all of us to succeed. In addition to funding, our entrepreneurs and developers will need mentorship, board members, investors, job opportunities, and more. When you contribute to this campaign, you unlock the potential of young people in one of the toughest parts of the world.
OUR STARTUPS
Since 2014, we have incubated 35 startups and facilitated investment offers for 11 teams. Our startups are like those anywhere in the world. A few examples: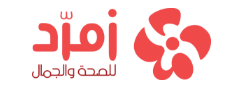 Zumrod: E-commerce platform for premium health and beauty products targeting Saudi women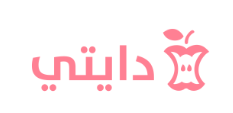 Dietii: Health and fitness application providing localized food recommendations for Arab women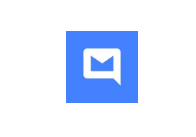 Mockapp: A B2B app for professional designers to create prototypes, share, and manage projects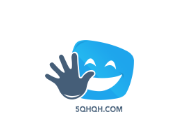 5QHQH: The 9gag.com for the Arab world helps users create and disseminate funny online content

Baskalet: Gaming studio that reached 100k downloads in its first week
View all of our startups on our main website.
OUR TRACTION
We've stayed busy since our last campaign – and have the results to show for it.
A Gaza startup achieved 1⁄2 million users in 3 weeks
Baskalet, a company that builds games based in Arab culture, became our first startup to generate revenue and is now seeking follow-on investment! Contact with international mentors accelerated their growth: they participated in a trip to Sweden sponsored by Klarna and were recently Gaza's first accepted startup to Blackbox, a bootcamp that brings global startups to Silicon Valley.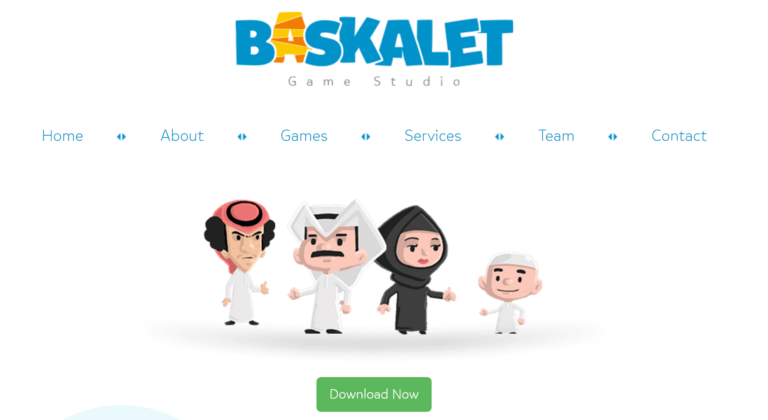 Our startups won international competitions
Mockapp, the InvisionApp for the Middle East, won first place early-stage startup during 'Global Entrepreneurship Week Palestine' in 2015. 5QHQH, a crowdsourced humor website for Arabs, won second place at a pitch competition in Jordan sponsored by 500 Startups, Microsoft, and Zain. The founders were traveling outside of Gaza for the first time in their lives!
We created Gaza's only vibrant co-working space – which contributes to our financial self-sustainability
After you helped us maintain a very modest space (a crumbling apartment where we ran workshops in a hallway) we secured funding to move into a space twice its size. Now we run hackathons here and thus save money on renting outside venues. We also host events and rent portions of our space to existing tech companies or freelancers, generating revenue that will soon cover 100% of our rent.
We cultivated the next generation of women founders – and taught girls how to code
We achieved a women's participation rate of 50% at our events in 2015, our highest yet! We ran a hackathon with AngelHack which achieved a women's participation rate of 83%, higher than any other AngelHack hackathon in the globe. We also invested our 'Entrepreneurs in Residence fellowship in an all-women's team, launched Gaza Geekettes (the first branch of Geekettes outside Europe and the USA), and began Gaza's first coding program for girls. And one of our geekettes won the Change Agent award at the Grace Hopper Celebration of Women in Computing!
We organized Gaza's first ever hackathons – on top of the Startup Weekend we promised
We ran our fifth Startup Weekend to inspire hundreds of Gazans to become startup founders. Soon after, we put on our first hackathon with AngelHack to deepen the skills of Gaza's top developers and engage them with our startups. Nineteen teams produced working demos within 30 hours! Just this month, we organized another hackathon focused on getting more women involved in technology and entrepreneurship. We had 50 female developers and entrepreneurs demo 15 different products after three days of hard work building applications meant to help new mothers, boost women's self-confidence, and increase access to health resources online.
We brought 100+ international mentors to Gaza
We brought more experts to Gaza in 2015 and 2016 than any previous years! Mentors support our founders and developers with one-on-one mentorship, workshops, and judging competitions. Some of our visitors include Dave McClure, Kevin Ryan, Kevin Abosch, and Sarah Drinkwater. Most mentors paid their own way to come – thank you for helping Gaza's geeks!
We evolved our model, adding an incubation program & freelancing
We are accelerating the development of the tech sector in such a tough part of the world – it's a road not previously travelled. Like our founders, we have to be entrepreneurial. Our successes have stemmed from continuously running experiments and validating what works. We have added an incubation program that gives founders the knowledge, networks, and funding needed to build prototypes viable for seed investment. We've also built a platform (online + offline) to train freelancers so that more Gazans can generate incomes and build their skills through online jobs.
OUR SELF-SUFFICIENCY
We expect to generate $25,000 revenue/year through our space after this campaign. One of our revenue-generation strategies is to rent out seats or rooms from our space to individuals and companies; we also rent out our workshop halls for events. Extended hours, air conditioning, and heating will make it more attractive and increase demand. As a result, the revenue we generate will cover our rent. (We will still depend on you and our other donors to cover the cost of staff and electricity.)
We also build sustainability into every other part of our model:
Events: Charge tickets & secure sponsorships
Incubation: Hold modest equity & deferred rent from startups receiving services
Acceleration: Tuition fee paid by angel investors
Freelancing: Tuition fee paid back by participants once they are earning an income
Our goal will always be to achieve sustainability and invest back into our operations. We need you to stick with us until we achieve that point. It will take years to build a large volume of companies and employed coders to see a return on the investment we are making into Gaza's tech sector. Cultivating Gaza's tech ecosystem is a long-term mission that requires your patient capital combined with local creativity and stamina.