Web marketers are moving beyond search, using powerful science to figure out what you want–sometimes before you even know.

(Business 2.0 Magazine) — On the Internet today, everybody knows you're a dog. In fact, legions of Internet companies also know your breed, your gender, your age, the neighborhood you live in, that you like pickup trucks, and that you spent, say, three hours and 43 seconds on a website for pet lovers on a rainy day in January. All that data streams through myriad computer networks, where it's sorted, catalogued, analyzed, and then used to deliver ads aimed squarely at you, potentially anywhere you travel on the Web.
Online advertising, to put it mildly, ain't what it used to be.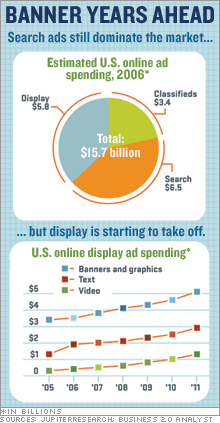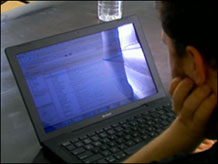 Why does Business 2.0 Magazine identify Revision3 as a startup to watch? Its popular online show, 'Diggnation,' says it all.
Play video

For starters, it isn't all about king Google and search. True, Google (Charts) grabbed a fourth of the $15.7 billion shelled out for online ads last year. But consider this little-known fact: Internet users spend a mere 5 percent of their time actually searching. The rest of the time, they're trolling the vast expanse of Internet space, leaving marketers ever more opportunity to fill it with display ads.
But unlike the first Internet boom – where dumb, old banner ads were slapped up with zero regard to effectiveness – this time around, the programmers and analysts are taking center stage, helping to create new forms of display ads that not only do a better job of getting your attention but also can be tracked with laserlike precision. The new breed of supersmart, supertargeted display ads, says Usama Fayyad, Yahoo's (Charts) head of research and data, is "just so much more powerful than search."
This is Web advertising 2.0, where machines play as big a role as the copywriters and designers. In the midtown Manhattan offices of Ogilvy North America, co-CEO Carla Hendra and her team run online campaigns for blue-chip clients such as Allstate (Charts), American Express (Charts), IBM (Charts), and TD Ameritrade. The agency's Interactive division is one of its fastest-growing operations, says Hendra, and most new hires come with a deep understanding of analytics.
"Marketers now all have to understand the power of algorithms," she says. Today everything about a fully realized Web campaign – how the creative messages look, what color the ads are, what sites they're placed on and where on each site, what time of day they run and how frequently – is determined at least in part by software applications known as "creative optimizers."
Ogilvy's in-house optimizer runs 5,000 to 10,000 calculations each time it evaluates the performance of an ad campaign. The optimizer collects data on scores or even thousands of ads and analyzes which ones are working, and why, on the fly. As data pours in, the optimizer starts pulling underperforming ads.
Red isn't working on a particular banner? The background will be blue the next time you see it – and the software will even swap the ad copy. No one's happier about that than advertisers: Optimized ads perform 15 to 30 percent better than their standard-issue counterparts. "We've reached a point of instantaneous feedback," Hendra says. That's forced the business to become brutally Darwinian.
And every big media company is paying attention. The fact that Google doesn't (yet) dominate the market for display ads is only accelerating the arms race for faster, smarter, more efficient ways of building and deploying display ads. Yahoo, the perennial No. 2 in paid search, already brings in an estimated $1.5 billion from selling ad space mainly on its own sites, and would love to see that number surge. Analysts estimate that Time Warner's AOL unit, long the ugly stepchild of its corporate parent (which is also Business 2.0's parent), will generate $1.6 billion from display ads this year, much of that from selling ads on third-party sites. From mighty Microsoft (Charts) to a host of tiny startups, everyone is racing to build a better display ad.
One man leading the charge is Fayyad, the brains behind Yahoo's efforts to improve ad targeting based on nearly everything you do on the Web.
Fayyad, fittingly, is a former rocket scientist whose resume includes a seven-year stint at NASA's Jet Propulsion Lab. He's an intense numbers guy who went on to found two data-mining companies, one of which he sold to Yahoo. As the most visited destination on the Web, Yahoo has an estimated 131 million monthly unique visitors to its sites. By dropping cookie files onto every Web browser that calls up one of its sites, Yahoo has amassed a staggering amount of data about its users. Fayyad rides herd on the 12 terabytes of user information that flow into Yahoo's servers every day, more than the entire inventory of the Library of Congress. The data is crunched, blended with information about what people do on Yahoo's search engine, and fed into models that predict consumer behavior.
This has led Fayyad to an important conclusion: What you do on the Web reveals far more about you than what you type into a search box.
Fayyad ran a test with brokerage Harris Direct (now part of E-Trade) to gauge how display ads affect brand awareness. Using Yahoo visitors as guinea pigs, Fayyad served some of them Harris Direct ads, and others house ads, and followed their behavior. The data that came back was anything but subtle: Those who saw the brokerage ads were 160 percent more likely to search in that category over the next three weeks, typing in keywords like "online brokerages." And they overwhelmingly clicked on a text ad for Harris Direct when it popped up in the paid search results.
How can search advertising compete with that? Says Fayyad, "Search is broken in some ways, because the advertiser only gets one shot."
What you do when you aren't searching – the other 95 percent of the time you spend online – is gold to advertisers. Yahoo often sells ad space based not on a site's content but on a consumer's online behavior, a growing practice known as behavioral targeting. Say you spent time at Yahoo Autos sizing up cars based on fuel efficiency, then clicked over to Yahoo's Green Center to read about alternative fuels, then looked at cars on eBay (Charts) (which has a partnership with Yahoo).
Fayyad can probably predict your next move. In fact, he says he can tell with 75 percent certainty which of the 300,000 monthly visitors to Yahoo Autos will actually purchase a car within the next three months. And the next time you visit Yahoo Sports or Finance, you'll likely see ads for hybrid cars. Yahoo is finding that ads often do best on sites that seem to have nothing to do with them – when, Fayyad says, "the content seems totally irrelevant." Marketing in this environment, he argues, crushes the potential of search alone. "I know more about your intent than any 1,000 keywords you could type," he claims.
This, he insists, is why Yahoo is better positioned than archrival Google in the display wars.
Other rivals are hardly sitting still. Microsoft last fall added behavioral targeting to its fledgling AdCenter, promising to offer advertisers a Yahoo-like blend of search and surfing data to best reach customers. And AOL, which uses behavioral targeting technology from a company called Revenue Science (founded, incidentally, by Fayyad), has made huge strides morphing itself into an ad-supported business. AOL's own sites attract 111 million monthly unique visitors, giving it some prime real estate.
But the company also sells ad space for about 3,000 smaller sites through its Advertising.com business, which it bought in 2004 for $435 million. Advertising.com stood out from the scores of other ad networks because it had employed teams of mathematicians and academics writing algorithms to target ads long before most other networks understood the value of this approach. Advertising.com was so sure of its capabilities, in fact, that it charged advertisers based on performance, not simply on impressions or clicks – something it still does. Performance might mean signing up a new customer, getting someone to register at a site, or receiving a request for additional information.
Today, any ad inventory that AOL doesn't sell for its own properties it hands off to Advertising.com. The network reaches an astonishing 86 percent of all U.S. Web surfers and, equally important, gives AOL's number crunchers a window into a much larger pool of Web behavior. Advertising.com targets ads based on demographics, geography, time of day, and countless other variables.
"Precision is what marketers are looking for with display," says Michael Kelly, president of AOL Media Networks. To further its reach, AOL in January bid $900 million for the European ad network TradeDoubler.
The reality of the Net in 2007 – distinguished by thousands of sites with potentially valuable commercial space – has created big opportunities for startups as well.
One that's gaining traction is New York-based Right Media. Founder Mike Walrath spent three years at online ad pioneer Double-Click, from the end of the boom into the bust, and ultimately deduced that the system for buying and selling online advertising was a mess: There was plenty of space available and plenty of demand, but there was no structure to connect them. Plus, he kept hearing complaints that Google's auction system wasn't transparent enough.
So Walrath built an exchange, called RMX, that's become a kind of eBay for display-ad inventory. Bidders specify their audience and Right Media's system predicts where the ads will work best. The software matches them with sellers in a fraction of a second and serves up the ad; Right Media takes an 8 percent cut.
Business took off so fast it almost killed the company. The exchange launched in April 2005 with a few small ad networks and a handful of ad buyers. By the fall the number of impressions traded on the exchange had soared to 20 billion a month.
Walrath was thrilled – until the death threats began. A few participants, it turned out, were using the platform to spread software, called spyware, that hijacks personal data from home computers. Victims traced the problem to Right Media. Walrath recalls the scariest message left on his office phone: "I know where you live. If you don't stop sending me pop-ups, I'm going to come to your house with a gun, and you can answer to God."
Walrath started turning away new business and sent his technologists back to the whiteboard to bulletproof the system. By last May, it was ready. Right Media won a big endorsement five months later, when Yahoo paid $45 million for a fifth of the company. Yahoo is now auctioning off billions of impressions each month on the exchange. Right Media, which also counts CNET and Fox Interactive among its customers, did $150 million in transactions in 2006 and is on track to more than triple that figure this year.
Says Bill Wise, who runs the online marketing firm Did-It and buys ad space via the exchange, "These guys could become the Google of display."
And what about Google itself? It remains the wild card in the display-ad game: It's the company everyone works with – and the one everyone fears. Google added display ads to its Ad-Sense network in the spring of 2005, allowing marketers to buy the ads on selected sites or through the same keyword auctions it uses for search ads. It determines placement based on the presence of keywords on a page. While Google has served up ads that use all sorts of images – including animated ads and, just recently, click-to-play video ads – media buyers say most of Google's display ads are short text ads similar to what you'd see beside search results.
For now, Google is in a difficult spot. As the leading search engine, it could certainly track its users' behavior to develop super-targeting capabilities for display ads. But the company says it won't do this. In fact, it says it's not going to employ the sort of behavioral targeting used by Yahoo and MSN because it doesn't want to snoop on its users.
"People are most often not aware that cookies are collecting data on their surfing behavior," says Gokul Rajaram, the product management director for Google AdSense. "It's murky in terms of privacy." Instead, Google uses data collected by research firm ComScore to help advertisers reach specific audiences.
Google says it's determined to conquer the display side of the market, even if it chooses to tie one hand behind its back. But, though no one doubts Google's immense abilities, the display market is an entirely different beast than search.
No one or two companies are likely to corner it. The role of the ad agencies – armed with high-powered measuring and targeting tools as well as creative expertise – is expanding along with the rigor required to manage online campaigns. ("It's never going to be run just by a machine," says Ogilvy's Hendra.) And high-priced ad placements, like those on the home-pages of Yahoo or MSN or ESPN.com, will, for the foreseeable future, still be sold the old-fashioned way – over the proverbial three-martini lunch. Some things never change.
Author:  Paul Sloan