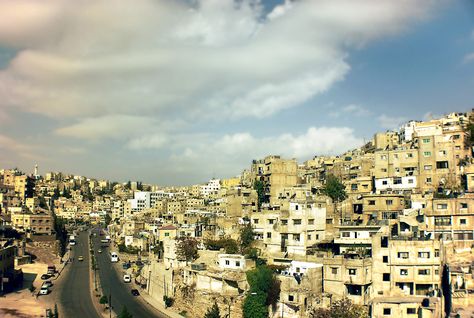 Going into the market in 2010 and saying that we would provide you a seed stage capital to support and roll out an idea, and take only 10 percent or 15 percent equity was unheard of at that time," says Yousef Hamidaddin, CEO at Oasis500, an Amman­based seed stage accelerator.
"It represented a major paradigm shift."
A decade before Oasis500 was set up, Jordan's King Abdullah II bin Al­Hussein had established a nationwide initiative REACH to promote growth in the country's IT sector. He has repeatedly accelerated his efforts to make Amman one of the region's leading start­up hubs by launching the kingdom's National ICT Strategy in 2007 as well as recently commissioning a group of experts to develop a special sectoral strategy.
Furthermore, English and Introductory IT studies have been made obligatory at primary school level while computer courses are now being offered in almost all of the country's universities.
As a result, Amman was ranked the 10th best city in the world to launch a tech start­up in a 2012 list compiled by Rachid Sefrioui, founder of Finaventures, a California­based venture­capital firm.
Speaking at a conference last year, Her Majesty Queen Rania Al­Abdullah of Jordan proudly stated that a high percentage of MENA's Internet entrepreneurs (over 35 percent) are Jordanians.
King Abdullah was also instrumental in setting up Oasis500, the region's first start­up accelerator, after he famously exclaimed: "500!" at a reception organised to celebrate the region's first tech exit – Yahoo!'s acquisition of Jordan­based Arabic content portal Maktoob.com for $164 million in 2009.
The king was talking about securing funding for a number of start­up ideas with Usama Fayyad, an American data scientist of Jordanian descent, who later became the chairman of Oasis 500.
"I think it is very important that you have a mature value chain that can take an idea from its inception to its fruition and its maturity, and that can provide access to finance, initially in the form of equity and later on in the form of debt," Hamidaddin says about the availability of start­up capital throughout the entire value chain which, he believes, is one of the strengths of Jordan's start­up scene.
"In Amman, when I make an investment in a start­up, I already know that the entrepreneur has access to an angel network that can allow them to raise something in the range of $150,000 to $200,000.
"I also know that the same start­up, if it is successful and continues to be successful, will have access to up to $1 million, and that in Amman there is also access to a $1 million or $5 million ticket.
"For me, that is really the main, determining factor of how mature a value chain is."
The local entrepreneurs' hunger for success, strong technical mastery, and ability to deliver ensure that investors in Jordan worry less about their investment decisions. "It makes it easier to invest in them because it is very difficult to invest in someone who has an idea and understands the business aspects of that idea, but has no capacity to deliver it technically," he adds. "That is a major drawback and something we don't really see a lot in Amman."
According to the 2015 Wamda Research Lab's report, over 80 percent of new institutions that support entrepreneurs, created since 2010, have been launched by local MENA stakeholders, with over 60 percent of these created in Jordan, Egypt, Lebanon and the United Arab Emirates.
One of the first among them, Oasis500 offers two types of investment – an initial cash investment, received after an entrepreneur is selected for the programme, and an in­kind investment, delivered through training, coaching and mentoring during the acceleration process. The accelerator is one of many on the lookout for the country's and the region's next start­up success story.
Whenever it happens, it is highly possible that a women entrepreneur will have built it.
Among 122 start­ups that have gone through Oasis500 programme so far, more than 30 percent are women­led ventures.
"I would say that women in Jordan are some of the most heavily empowered women in the Arab world," Hamidaddin says when asked what has contributed to a high percentage of women entrepreneurs in the kingdom.
"The Queen [Her Majesty Queen Rania Al­Abdullah of Jordan] is a role model to many ladies in Jordan, and she is all about empowerment. There are multitude of factors, and all of them add up to that, and you find women leading across every sector.
"It is just a fact of life here."
One of them is Riham Mahafzah, founder of Silk Road Images, formerly known as Gallery AlSharq, a stock photography company which contains a library of 85,000 photographs of the Middle East and East Asia.
Having quite her job to start up her business, Mahafzah approached Oasis500 in 2011. Since then her company has earned a number of industry accolades including winning the MENA 100 Business Plan Competition in 2012, securing the third place at the MIT Enterprise Forum Arab Start­up Competition in 2013, and the acceptance into the 500Startups programme in Silicon Valley in 2014.
"I need to grow in the Middle East, Levant, and Turkey, and then to start scaling to the Far East," she says about her recent decision to set up her company in Abu Dhabi after receiving a large investment from TwoFour54 and 500Startups.
"The best decisions for my business, at this stage and with this amount of money that I raised, are to start in the UAE and Turkey at the same time.
"Before this stage, it would have been difficult for me to set up in the UAE. As a start­up operating in the media and creative field, I need to be in the UAE.
"It is important to scale into bigger markets, but at the right time. It is all about timing."
Fadi Ghandour, Aramex founder and Wamda chairman, has defined a trend of companies starting up in Jordan, Lebanon and Egypt, and rapidly expanding to Dubai — to access the big Saudi market — as "the Axis of innovation" formula, The Financial Times recently reported.
The 2015 Wamda report also revealed that entrepreneurs from Egypt, Jordan, Lebanon and the UAE wish to scale into Saudi Arabia and the UAE, but less than 10 percent have managed to do so.
Only nine percent of entrepreneurs from Jordan have expanded their presence in the UAE, the report stated.
Khalil Shadid, founder and CEO at ReserveOut, an online restaurant reservation platform, launched his company in Amman in early 2012. Shadid now manages three offices covering seven cities and one international market.
"We decided to open an office in Dubai exactly one year after launching in Amman," he says. "The reason was to scale the business because Amman is a very small market, at least for our platform, and in general for any online business. Most companies that launch in Amman, they realise that their markets are actually in the GCC and not in Jordan.
"But Jordan is a great place to launch a company because of many factors, such as access to [the right] talent when it comes to technology and English language skills, which are very important for a business, as well as the cost of hiring."
Jordan has implemented various measures to allow the private enterprise system in the country to flourish. Nevertheless, entrepreneurs still face red tape.
The country is ranked 83rd out of 186 countries in the 2016 Index of Economic Freedom, prepared by The Heritage Foundation and The Wall Street Journal, and 113th out of 189 countries in the World Bank's 2016 Ease of Doing Business report.
"Each has its own set of challenges," Shadid continues. "Amman is obviously a small market, so getting access to potential customers and people to try your platform is simpler because it is a small community. But it is very limited and once you have achieved small traction, then you are done.
"Jordan is much more complicated because of various regulations and tax laws. These are the things you do not necessarily want to be worrying about at the beginning. You want to focus on your product, your revenue stream, and launching the business properly.
"Dubai is much faster. We have been in Dubai for three years now and it is by far our largest market, yet the hundreds of restaurants we work with have a mere 20 percent market penetration. In Jordan we achieved 70 percent market penetration within the first year [only].
"In Dubai it is a lot more expensive to set up a business and maintain it, but the revenues you are going to be making are a lot more than what they are in Jordan.
"Dubai has an advantage that when you set up, everything is very simple and straightforward. It is expensive, but straightforward. In Jordan that is not the case. There are a lot of complications that you need to deal with regardless of whether you generate revenue or not."
Shadid recently completed the first closing of their Series A round of $4 million, which was led by Silicon Badia, a venture capital firm investing in technology companies in the Middle East and the US, who joined their existing investors. 500 Startups, a venture fund and seed accelerator from Silicon Valley, also came on board.
Hamidaddin explains that out of 122 start­ups that went through Oasis500 programme approximately 80 percent do not move out of Amman, while of those who decide to set up an office in the UAE "some 60 percent return from Dubai."
"Our advice always is to avoid high operating costs that you don't need, and make sure that you are either close to your market and focus on the results," he says. "It is very expensive to operate in Dubai.
"If you calculate the costs, and one of our start­up founders actually did that exercise, and if you compare those costs with [the costs of] flying to Dubai for business meetings and coming back, it is much more economically efficient for him/her to be based in Amman and travel to Dubai whenever he or she needs to."
Not only Jordan's ecosystem, but all start­up hubs across the region, Hamidaddin believes, are promising, but still young. "We need to progress and progressing takes time," he says. "We need to mature, and ageing takes time. You just can't rush things. I think we would be asking too much.
"One thing I would like us to mature more in, and I don't know if there is something you can do to influence that, but it is to see investors coming in at different stages of the cycle of development that an idea goes through and to see them be much more sensitive and appreciative of valuations.
"Valuations are not the mirror of the value of the company, but the mirror of the value of the founder.
"If you want to give founders the opportunity to grow and develop and stay in the business, you need
to make sure that their opportunity cost is mitigated.
"I think that is the major bottleneck – how do we understand valuations? Valuations are very important cornerstone and that is a key element going forward."
By Tamara Pupic